PM Modi, world leaders to discuss counter-terrorism at G20 Summit
Jun 29, 2017 09:53 PM IST
The 12th G20 Summit on July 7-8 in Hamburg, a major port city in northern Germany, will also discuss issues like free and open trade, climate change, migration, sustainable development and global stability.
Counter-terrorism and economic reforms will dominate the discussions amongst the leaders of the world's 20 largest economies at the G20 Summit in Germany next week, to be attended by Prime Minister Narendra Modi.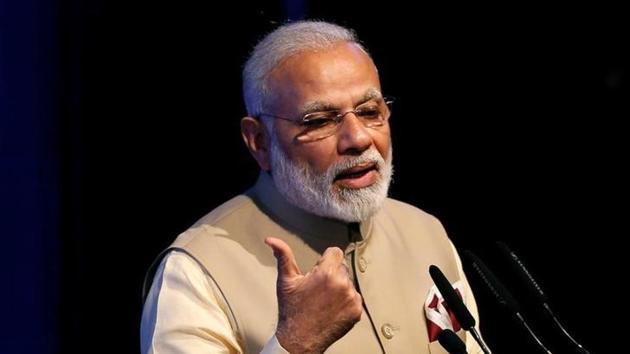 The 12th G20 Summit on July 7-8 in Hamburg, a major port city in northern Germany, will also discuss issues like free and open trade, climate change, migration, sustainable development and global stability.
The prime minister will lead the Indian delegation at G20 meeting, which will also include NITI Aayog vice-chairman and India's G20 Sherpa Arvind Panagariya.
Besides, the department of economic affairs secretary will also be there to lead discussions on the finance track of the summit, Alok Amitabh Dimri, joint secretary (multilateral economic relations) in the ministry of external affairs said.
The summit will conclude with a joint statement by the world leaders.
The G20 is the central forum for international cooperation on financial and economic issues. The G20 countries account for more than four-fifths of gross world product and three-quarters of global trade, and are home to almost two-thirds of the world's population.
The "Group of Twenty" is made up of 19 countries and the European Union. The countries are Argentina, Australia, Brazil, Canada, China, France, Germany, India, Indonesia, Italy, Japan, Mexico, Russia, Saudi Arabia, South Africa, South Korea, Turkey, the United Kingdom and the USA.
Germany assumed the G20 presidency on December 1, 2016.
In a media briefing about Indian engagements at G20 Summit, Dimri said it will begin with a two-hour "leaders' retreat" on July 7 morning where the theme of the discussions will be counter-terrorism.
He said this theme goes well with the prime minister's engagements with other world leaders and there was expectation that the issue of counter-terrorism will remain a separate thrust area as was the case with the last G20 Summit in Antalya, Turkey last year.
The summit will also include four working sessions, including on growth and trade, climate and energy as well as on sustainable development and labour-related issues.
Dimri said Panagariya as India's G20 Sherpa has already been part of three preparatory meetings on the summit agenda and will attend one more such meeting before the world leaders meet in Hamburg.
Modi is leaving for Israel on July 4 for a three-day visit and will go to Germany after that for the G20 meet.
The finance track of the G20 meeting will include discussions on issues like fiscal and monetary reforms, climate finance and green finance.
Dimri said open and free trade would be another area of focus at the summit deliberations, while a special focus on Africa is also expected as it was one of the key thrust areas for the host Germany's Chancellor Angela Merkel.
Besides, women and youth employment, gender inequality, re-skilling and health will also figure among discussions and outcome of the meeting.
Advisers to the heads of state and government, known as Sherpas, have been preparing for this meeting for long.
Asked whether Modi will also have bilaterals with any of the world leaders on the sidelines, the Ministry of External Affairs Spokesperson Gopal Baglay said any bilateral meeting is announced very close to the event.
"There is a process involved in that... We will keep you informed as and when those things materialise," he said.
On whether the leaders' retreat on counter-terrorism would also include issues like cross-border terror threats, Dimri said one has to understand that the summit was not taking place in any regional context and it was a global summit.
He further observed that the summit was taking place in Germany and it was more logical that the events in Europe would figure with regard to counter-terrorism related discussions.
He also clarified that the leaders' retreat was not a formal session and the Chair (Germany) has decided to pull aside the world leaders for two hours for this retreat before opening of the Summit on the subject of counter-terrorism.
"This shows the significance the world leaders attach to this issue," he said, while clarifying it was not one of the formal sessions where discussions happen as per the agenda and here the world leaders will interact with each other in "very intimate surroundings".
At the same time, some outcome should be expected as the leaders would be discussing this important issue, he said.
On whether India can expect support on CCIT (Comprehensive Convention on International Terrorism) - its key anti-terror initiative at UN - Dimri replied in affirmative, and said the CCIT has been there in most of the bilateral or multilateral documents.
Asked whether India was prepared to counter, if China talks about its OBOR (One Belt, One Road) initiative, Dimri said one needs to understand such summits do not involve the leaders going and speaking at their own volition as there are fixed agenda points for discussions that get finalised after rounds of meetings by Sherpas.
"These are not one-off meetings and have been preceded by a number of meetings through the year, including of working groups, meetings of Sherpas and they have bunched up agenda from multiple streams...and OBOR has not been discussed so far," he said.