Pregnant woman allegedly gang-raped in Gurugram, dumped in a secluded spot
May 26, 2018 10:27 PM IST
The victim alleged that she was raped by the autorickshaw driver and two other people riding the the same auto. She said they shoved a tablet down her throat after which she lost consciousness.
Three unidentified persons were booked on Friday for allegedly raping a pregnant woman. The woman stays in a rented accommodation with her husband in a village in Manesar.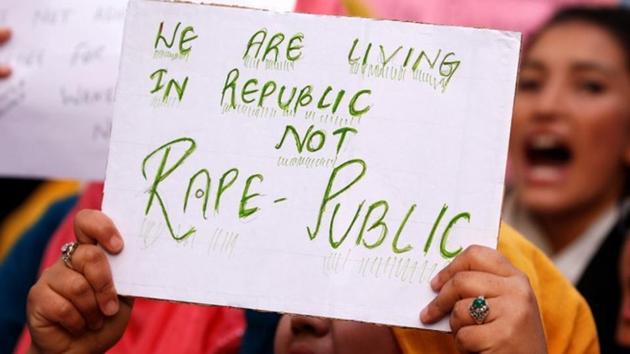 The victim told police that she had taken a shared auto-rickshaw to reach home on May 21 afternoon after visiting ESIC hospital in Manesar. She said the accused, who were riding the same auto, shoved a tablet down her throat after which she lost consciousness.
The victim said that when she regained consciousness, she realised she had been dumped in a secluded place and her clothes were torn. She said she also felt a lot of pain in her private parts and realised that she had been raped. Acting on her complaint on Friday, a case was registered against the accused at Manesar women's police station. The accused were booked under section 376D of the IPC.
The police said the matter is being probed and accused would be nabbed soon.
In a similar incident last year, a woman, who had taken a lift in a shared auto in Manesar, was raped three men.
The victim, who hails from Uttar Pradesh, told police that she contacted her husband with the help of a passerby. She said she called her husband to her workplace saying that she was not feeling well. Her husband took her to the ESIC hospital. She said after visiting the doctor, her husband asked her to take a shared auto as she was 3-months pregnant and said he would be ride home in his bicycle.
"My husband got me home around 8pm after the incident. I was in a lot of pain and over the next two days, there was a lot of bleeding from my private parts. I was taken to ESIC hospital on May 23, but the doctors there referred me to a private hospital," the victim told police.
"A case has been registered and the matter is under investigation," Ravinder Kumar, PRO, Gurugram police, said.
In another incident, two senior officials of an IT company were booked after a former executive lodged a complaint alleging physical and mental harassment. She also alleged that the accused had conspired to ensure she was fired and this was not the first such incident in the company.
She alleged that the HR manager of the firm, and its country head had harassed and physically assaulted her over a period of one year and also made demands, which were not in line with her job. She also alleged that the country head directed her to accompany her to meetings outside the city, which she refused. However, she said since she did not have any other source of income, she did not leave the job. However, on April 2, she was terminated from service without any reason, she said. The complainant said that almost 8 to 10 similar incidents had happened in the past and the two accused were behind them as well.
A case under sections 323 and 509 of IPC was registered at Udyog Vihar police station on the complaint of the victim. "A case has been regisered and the facts are being verified after which action would be initiated," Ravinder Kumar, PRO, Gurugram police, said.