5.4 lakh earthen lamps light up in Ayodhya for Deepotsav, Yogi in attendance
Earlier today, artists from different states like Madhya Pradesh, Jharkhand and Rajasthan gathered for several planned celebratory events, reported ANI.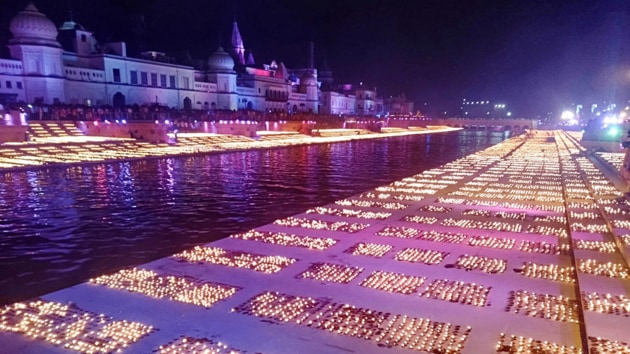 Updated on Oct 26, 2019 07:48 PM IST
More than 500,000 diyas or earthen lamps were lit on Saturday at Ram Ki Paidi on the banks of the Saryu River in Uttar Pradesh's Ayodhya as part of the BJP government's Deepotsav celebrations this year.
Fiji's minister Veena Bhatnagar, the chief guest at this year Deepotsav, lit the first earthen lamp as chief minister Yogi Adityanath and Governor Anandiben Patel and several ministers of the state government were present.
Thousands of people were seen at Ram Ki Paidi which was lit up in pink purple.
Bhatnagar, who is of Indian origin and the assistant minister for women, children and poverty alleviation of Fiji, had reached Lucknow on Friday evening and had a brief conversation with Adityanath.
The Yogi Adityanath government celebrated Deepotsav in Ayodhya for the first time in October 2017, about seven months after the Bharatiya Janata Party came to power in the state in March 2017. The event was also held last year. Kim Jung-sook, the first lady of South Korea, was the chief guest at the event.
As many as 300,152 lakh earthen lamps were lit on the occasion, creating a world record, which the district administration will aim to break this time.
The Ayodhya administration aims to create a Guinness World Record by lighting 551,000 earthen lamps this year as well.
Around 400,000 lamps were placed at Ram Ki Paidi and the rest in other parts of the temple town associated with Hindu God Ram.
A team from the Guinness Book of World record will also be present in Ayodhya on Deepotsav to record the event.
Before the lighting of the diyas, a tableau procession of Lord Rama was taken out on Saturday in the presence Adityanath.
Artists from different states like Madhya Pradesh, Jharkhand and Rajasthan gathered for several planned celebratory events, reported ANI. Some were also spotted dressed as Lord Ram, Lord Krishna and Lord Hanuman.
"It feels great to be here. We get to meet a lot of people here. Artists from different states have come here," an artist was quoted as saying by the news agency.
Residents of the area and tourists have flocked to the city in large numbers for the grand Deepotsav celebrations.
"We have come here from Nepanagar in Madhya Pradesh. We are honoured to be a part of Deepotsav. We are performing Bhagoria folk dance here," said Mukesh Darbar, president of a Napanagar-based dance group.
The three-day Deepostav celebrations began in Ayodhya on Thursday. On the second day, several cultural events were organised at Guptar Ghat and Bhajan Sthal. Artists from Indonesia and Nepal performed Ram Lila.
Folk songs of Bihar and folk dance of Chhattisgarh were also major attractions on the second day.
On the day of Diwali on Sunday, saints will light 150,000 earthen diyas in the Ramkot area - all the temples and houses in the periphery of the Ram Janmabhoomi-Babri Masjid campus.
The Ram Janmabhoomi Nyas had sought permission from the divisional commissioner of Faizabad division, Manoj Mishra, to light diyas at the disputed site and rest of the campus on Diwali. However, they were denied permission.
Close Story