'He's got josh': Priyanka Gandhi reaches out to Bhim Army chief in hospital
Lucknow |
Rajesh Kumar Singh & S Raju
Apr 22, 2020 05:58 AM IST
Priyanka Gandhi said she admired the spirit of Chandrashekar Azad and alleged that the government wants to "crush" him as he has been raising his voice for the Dalit community.
Congress general secretary Priyanka Gandhi Vadra on Wednesday drove down to Meerut in western Uttar Pradesh to look up Bhim Army chief Chandrashekhar Azad who was admitted to a local hospital yesterday after the police sought to detain him. Chandrashekhar Azad developed respiratory problems shortly after he was detained by the police on Tuesday.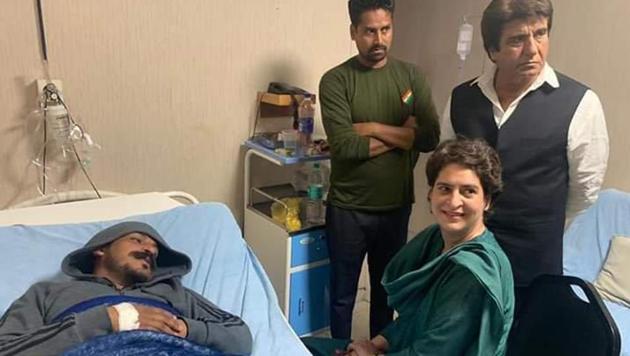 Chandrashekhar Azad and some of his supporters were taken into custody in Saharanpur on Tuesday for violating the model code of conduct that came into force after the Lok Sabha elections schedule was declared on Sunday. The leader of the Dalit outfit was marching towards Delhi for his proposed 'Bahujan Hunkar' rally scheduled on Friday when he was detained.
Stay tuned with breaking news on HT Channel on Facebook.
Join Now
"I like his 'josh' (enthusiasm) and sangharsh (struggle)," said Priyanka Gandhi after her 15-minute meeting with Azad at the hospital. The newly-appointed Congress general secretary for eastern UP was accompanied by her party colleagues, Jyotiraditya Scindia who has been mandated to oversee the party's affairs in western UP and the Congress's state unit president Raj Babbar.
The Congress leader also packed in a swipe at the BJP government, describing the governments at the Centre and the state as an ahankari sarkar (arrogant regime) that wanted to crush a young leader and not hear his concerns.
"Therefore, I came here to enquire about his health. This young man has been requesting the government to hear his concerns for his people, but the 'ahankari sarkar' wants to crush him and is not ready to listen to his voice."
Priyanka also accused the BJP government of depriving people of employment opportunities. "They didn't provide them jobs. Let them be allowed to raise their voice if they want. What is the need to crush it?" she said.
The 47-year-old leader who took the plunge in electoral politics recently, however, steered clear of talking politics, insisting that she had only travelled to meet him because he was unwell. "I will not speak anything about politics," she said.
Chandrashekhar Azad made a similar point.
"She came to enquire about my health as a humane gesture. I am not a political man with whom she could discuss politics," Azad told Hindustan Times.
He said Priyanka Gandhi told him that the "government was committing excesses on me and my people."
He ruled out joining any political party, saying he had been fighting for the bahujan samaj and "will keep fighting till my death". But he did call for unity among the opposition against the ruling BJP government at the Centre.
"Not only Priyanka, but all should come together to defeat Modi," he said.
Asked if the meeting with his visitor from the Congress had boosted his morale, Chandrashekhar said, "My morale is already high. Therefore, I am fighting for the bahujan samaj and carrying forward my struggle with utmost honesty. This is my strength."
Azad's Bhim Army has following among section of young Dalits, especially in western UP.
He was once perceived to be interested in joining the SP-BSP coalition against the BJP but Mayawati had last year quickly shut the alliance's doors on him, describing Azad as a stooge of the BJP.