Rahul Gandhi leads Opposition charge against GST
The Congress vice president said the Congress was the original architect of the pan-Indian tax, which will replace myriad of local levies.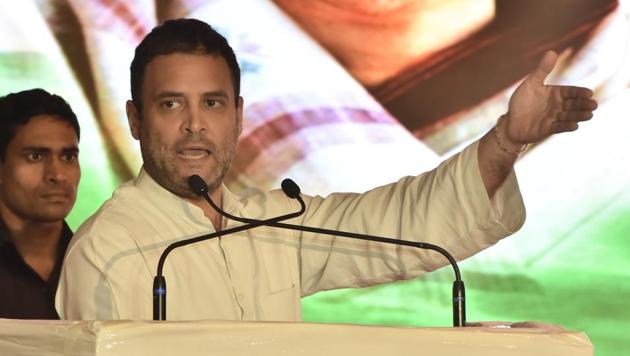 Updated on Jul 01, 2017 05:28 PM IST
Congress vice president Rahul Gandhi led the barrage of criticism against the implementation of the GST on Friday, hours before the country embraced the new tax regime.
"India deserves a GST rollout that does not put crores of its ordinary citizens, small businesses & traders through tremendous pain & anxiety," Gandhi tweeted, reflecting the sense of uncertainty that prevails upon a large section of traders.
Gandhi reminded that the Congress was the original architect of the pan-Indian tax, which will replace myriad of local levies, and quipped, "Unlike demonetisation, GST is a reform that @INCIndia has championed & backed from the beginning. But like demonetisation,GST is being executed by an incompetent &insensitive Govt w/o planning foresight &institutional readiness," he said.
The Congress, which had advocated lower tax rates, also campaigned to show how the NDA government has slapped "Highest Ever GST Rate in the World."
With key Opposition parties such as the Congress, Left, Trinamool Congress and the RJD deciding to boycott the GST roll out event in Parliament, senior government managers appealed to Opposition leaders to rethink their position and join the landmark programme.
"They are distancing themselves from a process of reformation. I hope they will realise it by the evening, do a rethink and join us in the Centre Hall," said Union minister Venkaiah Naidu.
Economist Bibek Debroy quashed Opposition charges and told a TV channel, "Had we waited for a perfect GST, we would have waited for many more years. This may not be perfect but look at it as a stepping stone."
Samajwadi Party, which has sided with the Opposition in the Presidential election, however, has decided to attend the GST launch ceremony.
"We oppose the GST. It's a black law but since President Pranab Mukherjee will attend the launch, we will go as we do not want to create controversy," Samajwadi Party leader Naresh Agrawal told a news agency.
Bihar chief minister Nitish Kumar will skip the event but his minister will attend the event. The Nationalist Congress Party (NCP), too, has supported the new tax regime and questioned the stand of some Opposition parties.
West Bengal chief minister Mamata Banerjee dubbed introduction of GST as "the mockery of Inspector Raj. "At the stroke of midnight on 14th August, 1947, India won her freedom. Now, at the midnight of 30th June, 2017, freedom and democracy stand to face grave danger. The mockery of Inspector Raj is back," she wrote in a Facebook post.
The CPI(M), which demanded changes in the GST bill, feared an "imminent threat of inflation and an all-round increase in the prices of consumer goods".
The party's politburo said, "It is estimated that there will be a revenue loss of at least Rs 1 lakh crore for the Centre and state governments. This will be a bonanza for the corporates, who are not willing to pass on the benefit of the reduced rates to the consumers."
Close Story