Railway police recovered stolen property worth Rs 2.93 cr, arrested 6,603 thieves in 2017-18
The Railway Protection Force is particularly intent on preventing the theft of engineering items such as rail tracks and fish plates, which may compromise passenger safety.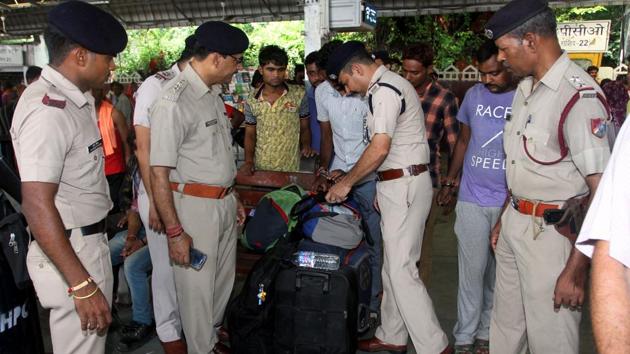 Updated on May 23, 2018 01:18 PM IST
Hindustan Times, New Delhi |
Faizan Haider
From toilet mugs to fans and railway lines, the Indian Railways has recovered stolen property worth Rs 2.93 crore in 2017-18 – almost double the previous year's figure.
Railway Protection Force (RPF) officers have also cracked down on thieves across its network, placing as many as 6,603 under arrest.
"The RPF is empowered to deal with theft and unlawful possession of railway property under the Railways Act. We conduct drives to catch the offenders because there are times when their deeds have even led to disruptions in train operations," an RPF officer said on the condition of anonymity.
The items likely to be targeted by thieves can be categorised in the engineering (railway tracks, fish plates), mechanical (wash basin, mirrors, bathroom taps), signalling and telecommunication (overhead cables, solar plates, relay, telephones) and electrical (batteries, electric coach fans, switches) segments. Of these, thieves mostly target engineering materials.
"As these materials are spread over an expanse of almost one lakh kilometres, they fall easy prey to thieves. But we need to curtain such thefts as they end up compromising passenger safety," the officer added.
In 2016-17, the RPF arrested 5,458 people in 5,219 theft cases while recovering property worth Rs 1.58 crore. The number of cases increased to 5,239 in 2017-18, with the recovery of items worth Rs 2.97 crore from 6,603 people.
While the RPF has a sanctioned strength of 74,456 personnel, it has a head count of just 67,000 – a majority of whom are posted at police stations across the country. This staff shortage is said to affect the force's ability to conduct anti-theft drives on a regular basis.
Close Story