Use more drones, cut off finances to deal with Maoists: Rajnath Singh to states
May 08, 2017 03:13 PM IST
Home minister Rajnath Singh on Monday called for the choking of financial resources of the left-wing extremist groups and said it was the fundamental instrument to counter the Maoist violence.
Union home minister Rajnath Singh on Monday called for the use of technology and a smart and aggressive strategy to successfully deal with the Maoists in the 10 affected states, days after 25 paramilitary troopers were killed by them in the deadliest attack in Chhattisgarh in the last 7 years.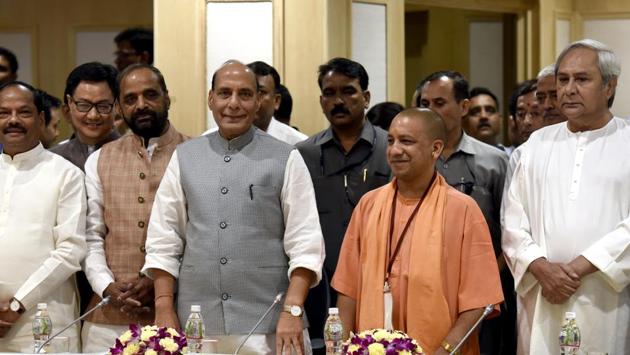 Singh said 'SAMADHAN' (solution in Hindi) can be a way to tackle left-wing extremism (LWE) and asked the 10 Maoist-affected states - Chhattisgarh, Madhya Pradesh, Odisha, Andhra Pradesh, Telangana, West Bengal, Jharkhand, Bihar, Maharashtra and Uttar Pradesh - to lead from the front.
He added that S stood for smart leadership, A for aggressive strategy, M for motivation and training, A for actionable intelligence, D for dashboard based KPIs (Key Performance Indicators) and KRAs (Key Result Areas), H for harnessing technology, A for action plan for each area and N for no access to financing.
Inaugurating a review of the situation, Singh said mini-unmanned aerial vehicles (UAV) are extremely useful for anti-Maoist operations and should be procured and made available in more quantities to tackle the left-wing extremism (LWE).
"We must try that there must be at least 1 UAV/Mini UAV with every battalion," he said advocating more eyes in the sky to deal with Maoist violence, in which he said around 12,000 people, including 2700 security personnel, have lost their lives in the last 20 years.
The minister added in order to prevent the Maoists from using weapons looted from security force personnel, trackers must be added to them and biometrics used in smart gun triggers. "Trackers should also be embedded in shoes, bulletproof jackets etc," he added.
Singh said all the stakeholders will have to be cautious that extremely defensive deployment may result in the reduction of operational offensive. He once again pushed the states to take a leadership role in anti-Maoist operation with the support of central forces.
"Be it central forces or the district police, they will have to work under a coordinated strategy and plan. The most important thing is that the officers will have to lead from the front. Success in this regard cannot be achieved only by sitting in Delhi, Ranchi or Raipur," he said in his address.
As part of the smart leadership solution, the home minister also sought a unified coordination and command in the areas affected by Maoist violence. "Along with strategic command, unified command is also required at the operational and tactical level. Intelligence sharing is important too," he added.
"I believe that there is a need to depute shadow intelligence officers to trace the prominent targets associated with left-wing extremism," the home minister said asking for an aggressive approach to deal with Maoist leadership.
Following the attack in Sukma on April 24, the government had vowed to review its anti-Maoist policy. The Central Reserve Police Force had moved its strategic command headquarters for anti-Maoist operations from Kolkata to Chhattisgarh. The rebels had also killed 11 security personnel on March 13 in the same Sukma district.
The government has ruled out an immediate deployment of army in anti-Maoist operations. Deployment of the army in anti-Maoist operations has been a contentious issue, often opposed by rights groups on grounds that army should not be used against country's own people who have taken to violence due to lack of development in the hinterland.
According to a home ministry statement, the day-long meeting is also being attended by the secretaries of the Union ministries, besides chief secretaries and police chiefs of the 10 states.
The chief ministers and top officials of all the 10 states were invited but those of Bengal, Telangana, Andhra and MP didn't turn up for the meeting.
(With agency inputs)