Republic Day 2023: Kartavaya Path witnesses prowess of Indian weapon systems
Jan 26, 2023 11:43 AM IST
Republic Day 2023: This year, only Made-in-India weapon systems were showcased at the Republic Day parade.
As India celebrated its 74th Republic Day on Thursday, Kartavya Path in the national capital witnessed the prowess of the armed forces armoured with hi-tech indigenously made equipment.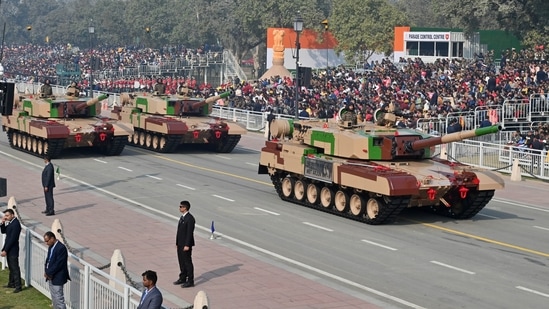 Read here: Egyptian Army takes part in 74th Republic Day parade. Watch
The Republic Parade 2023 kicked off with a march by a contingent of the Egyptian Armed Forces.
The first contingent in the uniform of the 61 Cavalry was led by Captain Raizada Shaurya Bali. The 61 Cavalry is the only serving active Horse Cavalry Regiment in the world, with the amalgamation of all the 'State Horse Units'.
The Indian Armed Forces has been rendering its selfless service to the nation and its countrymen, ensuring stability and dominance on the frontiers along the Line of Control (LoC), the Line of Actual Control (LAC) and worldwide through UN Peacekeeping missions.
Indian Army's Lethality, Accuracy and Reliability witnessed a leap with the acquisition of platforms like Akash Missile System, satellites, Modular Bridges, towed guns, utility helicopters, electronic warfare system and the likes of surface-to-air missiles.
This year, only Made-in-India weapon systems were showcased at the Republic Day parade including ammunition showcased India's indigenization power, including 21 Gun Salute through 'Made in India' 105 mm Indian Field Guns, recently inducted LCH Prachand, the K-9 Vajra howitzers, MBT Arjun, Nag anti-tank guided missiles, Akash air defence missiles, and the Quick Reaction Fighting Vehicles.
MBT Arjun
ARJUN of 75 Armoured Regiment was led by Captain Amanjeet Singh. MBT ARJUN', is third generation main battle tank developed indigenously by India's Defence Research and Development Organisation (DRDO).
Read here: Republic Day 2023: President Murmu unfurls tricolour, leads R-day Celebrations
Arjun features a 120 mm main rifled gun, 7.62 mm coaxial machine gun and a 12.7 mm anti-aircraft machine gun. It is powered by a 1400 HP Diesel engine and can achieve a maximum speed of 70 km/h (43 mph) and a cross-country speed of 40 km/h (25 mph). The newly developed Kanchan armour provides an all-around anti-tank warhead protection, much higher than available in comparable third-generation tanks. Its motto is motto 'Sahasam Vijayate'.
Nag Missile System (NAMIS)
The next detachment was of NAG Missile System of 17 Mechanised Infantry Regiment led by Lt Siddhartha Tyagi.
The System popularly called NAMIS is a tank destroyer indigenously designed by the Defence Research & Development Laboratory Hyderabad, a lab of DRDO. It consists of a tracked Armoured Fighting Vehicle, which has a crew-less turret capable of firing six 'Nag' Anti-Tank Guided Missiles. NAMIS has been developed for the Recce and Support units of the Mechanised infantry to reinforce and enhance anti-tank capability along our borders during offensive and defensive operations.
The Nag missile is a Fire & Forget ATGM with an effective range of 5 km. The tandem warhead with the capability to lock-on- before launch and top-attack, accurately hits the targets that are moving or trying to escape.
NAMIS is a game-changer and the successful development of this modern weapon system for the Indian Army has propelled India into the select club of countries which have developed their own fire-and-forget top-attack tactical ATGMs integrated on AFVs. Its motto is `Satrah Mech - Har Maidan Fateh'.
BMP2/2 K
Next came to the saluting dais was the mechanised column of Infantry Combat Vehicle BMP-2 of Mechanised Infantry Regimental centre led by Captain Arjun Sidhu of 6 Mechanised Infantry Regiment.
ICV BMP-2 named SARATH, is a high mobility Infantry Combat Vehicle (ICV) which possesses lethal weapons and night fighting capability. It can operate effectively in all battlefield terrains of desert, mountainous region or high-altitude area. Its motto is 'Valour and Faith' which means (Veerta our Vishwas').
Quick Reaction Fighting Vehicle (QRFV)
The next detachment was of Quick Reaction Fighting Vehicle led by Captain Naveen Dhatterwal of the 3 Ladakh Scouts Regiment. These vehicles under Atma Nirbhar Bharat Scheme are being manufactured by TATA Advance System and Bharat Forge Limited for the Indian Army and is shining example of Indian Army's quest for self-reliance. This 4x4 wheeled Armoured Platform has full Armour Protection with a 360 Degree Turret which mounts a 7.62mm Medium Machine Gun, can carry 10 Fully Armed Troops. The vehicle is ideally designed for troops operating in Ladakh, Sikkim and Arunachal Pradesh.
The vehicle is also Mine and Bullet Proof which makes it suited as an Escort vehicle and special response for CI OPS. It has a maximum speed of 80 km/h with an OP range up to 600 km and can negotiate a gradient up to 25 degrees. The War Cry is "Ki Ki So So Lahargyalo" which means 'Victory to God.
K-9 Vajra-T (SP)
The next detachment was of K9 Vajra-T of 224 Medium Regiment (Self Propelled) led by Lt Prakhar Tiwari. K9 Vajra-T 155mm/52 Calibre Tracked Self Propelled has a firing range of 40 Kms.
The Tracked Self Propelled Gun System can move at a maximum speed of 60 km/hr over arid desert terrain. It has been provided with all welded steel armour protection & the design incorporates Modular Azimuth Position System (MAPS) and Automatic Fire Control System. Its motto is Sarvada Sarva Pratham' which means 'Always the First'.
Brahmos
The next detachment was of Brahmos of 861 Missile Regiment led by Lieutenant Prajjwal Kala. BRAHMOS is a supersonic, high-precision, cruise missile having a range of 400 km with the capability to strike targets deep inside the enemy territory with precision and devastating effect. Its motto is "Swamiye Sarnam Aiyyapa".
10m Short Span Bridge
The 10m Short Span Bridge of 64 Assault Engineer Regiment led by Captain Shivashish Solanki, it is a mechanically launched Assault Bridge designed by DRDO to help Combat Engineers in Crossing formidable obstacles like Canal or Nallahs in a matter of minutes.
Read here: Watch| Israel wishes India on its 74th Republic Day through a diverse video
The motto of 10 metres Short Span Bridge System was Agrani Ajay' which means 'Always Leading and Unconquerable.
These Bridges can be utilized by mechanised and armoured columns to speedily cross obstacles and destroy the enemy. These indigenous bridges signify that no obstacles remain impediments to the Mechanised
Forces of the Indian Army and are a step forward to Atmanirbharta in defence. The Regiment will celebrate 50 years of glorious history on 30 Sept 2023.
Mobile Microwave Node and Mobile Network Centre
Mobile Microwave Node and Mobile Network Centre of Corps of Signals was led by Major Mohd Asif Ahmed of 2 AHQ Signal Regiment with a motto of `Teevra Chaukas' which means 'Swift and Secure?
The column consists of two vehicles, a `Mobile Microwave Node' and 'Mobile Network Centre Major Mahima Kataria of 2 AHQ Signal Regiment in charge of the Mobile Network Centre.
The Mobile Microwave Node of the Indian Army is capable of extending high-speed operational communications to Tactical Battle Area.
The Node is mounted on a High Mobility Vehicle platform and housed in an NBC proof ruggedised shelter to provide matching mobility and sustenance to mobile mechanised operations. The vehicle can operate on optical, microwave and satellite media to provide triple play services to include voice, data and video to field formations in active hostilities.
The Mobile Network Centre is a next-generation network vehicle and enabler of network-centric operations.
It hosts three core functionalities of Network Operations, Security Operations and the Data Centre. It acts as a force multiplier by enhancing battlefield transparency and increasing situational awareness.
The vehicle has a crew of six led by an officer and is equipped with IMS core, aggregation routers access switches, large screen displays and high-speed processing platforms. The mobile node is developed indigenously and upholds the Aatmanirbhar Bharat Mission.
The next detachment is of AKASH weapon System of 27 Air Defence Missile Regiment -- 'the Amritsar Airfield', led by Captain Sunil Dasharathe accompanied by Lt Chetana Sharma of 512 Light AD Missile Regiment (SP).
Akash Weapon System is the first indigenously developed Air Defence System capable of firing Short Range Surface to Air Missile (SR-SAM), against enemy aerial platforms. Its motto is "Akaash-e-Shtrun Jahi".
In the sky two Dhruv Helicopters and two Rudra Helicopters integrated with weapon systems demonstrated their power dominance. The Advanced Light Helicopters, Rudra, are also referred to as flying tanks. The Rudra formation was led by Colonel R S Jamwal, Sena Medal of 205 Army Aviation Squadron (UH) with National Flag, followed by Lt Col Sumit Kumar Uniyal and Lt Col Puneet in two Rudra helicopters and Lt Col Vijayat Goyat in the last Dhruv helicopter.
Wheeled Armoured Platform - WHAP 8x8 on 70 ton trailer
Wheeled Armoured Personnel Carrier, WhAP 8x8, carried on a specialist 70-ton Trailer are indigenously designed and developed by DRDO.
WhAP is a modular, 8x8 wheeled combat platform. WhAP is a state-of-the-art customisable platform for roles such as Infantry Vehicle, CBRN Vehicle, ATGM carrier etc. The Armoured Personnel Carrier variant on display is integrated with 30mm turret, composite armour and innovative blast protection. This amphibious vehicle can cross rivers and canals and its maximum on-road speed is 100 km/h.
Read here: PM Modi wears multi-coloured Rajasthani turban, President chooses Odisha silk
The 70-ton trailer is equipped with state-of-the-art hydraulic suspension for better mobility, steerable axles and hydraulic ramp for ease of loading and unloading of heavy payloads. The trailer which is capable of negotiating sharp turns and gradients has undergone extensive trials with MBT Arjun as payload.
Notably, the Defence Services witnessed path-breaking reforms to transform the military into a modern, self-reliant, youthful and tech-savvy force.
The seamless modernization plan focused upon developing 'Force Capabilities', the creation of Self Reliant Defence ecosystem with Make in India pursuit and a learner and agile Army driven by technology.
"Exciting news! Hindustan Times is now on WhatsApp Channels
Subscribe today by clicking the link and stay updated with the latest news!"
Click here!
Get
Latest India News
along with
Latest News
and
Top Headlines
from India and around the world