Rohingya refugees find a safe haven near Kolkata
Mar 17, 2018 09:31 PM IST
Hardaha, though large, is not a prosperous village. However, the Rohingya refugees say the villagers have big heart.
On March 13, a truckload of 80 Rohingya refugees belonging to 27 families alighted at Hardaha village on the southern outskirts of Kolkata and proceeded to Makhal Tala six km away, in small groups, where tents were set up for them. They all came from Nuh in Haryana where they lived in refugee camps for several months.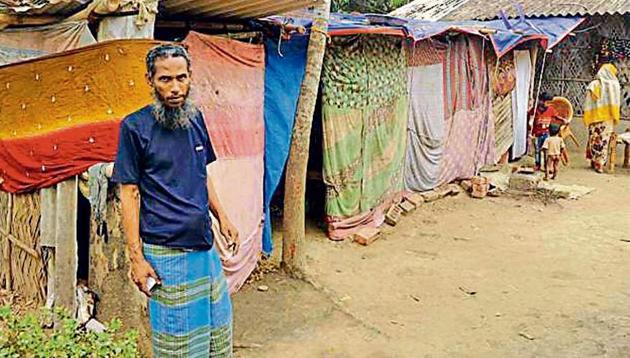 However, rumours spread fast following their arrival that batches of Rohingyas have crossed the Indo-Bangladesh border in neighbouring North 24-Parganas district and have come to settle in Baruipur in South 24 Parganas district, about 30 km from Kolkata.
The next day, police arrived at the door of the makeshift homes of the 22 Rohingya families who have settled at Hardaha over the past couple of months with the help of an NGO Desh Bachao Samajik Committee. The refugees, who came from Mewat in Haryana, were grilled several times along with the head of the facilitating organisation.
They refugees, though, did not have to feel alone, as a good number of the local residents gathered and spoke in favour of them.
"We were in a state of panic. However, locals gave us great support," said Azizullah 45, a father of nine, who is now living with his wife and six children in a makeshift, thatched tent made of bamboo, polythene sheets and old saris.
"These people are helpless. Where will they go? It's a question of humanity," said Marzina Bibi, a resident of Hardaha who is in her thirties. "None leaves home with kids on an uncertain journey unless they have no other option."
"The world knows how bad the condition at home is. We are all sympathetic towards them," said Minhaz Mallick, a farmer in his mid-50s. About half of the refugees who arrived in Bengal are minors.
The Supreme Court is presently hearing a plea challenging the Centre's decision to deport Rohingyas.
The refugees, however, had reason to feel less apprehensive about Bengal. Its chief minister Mamata Banerjee publicly criticised the Centre's stand and expressed sympathies for the Rohingyas. "We do support the @UN appeal to help the Rohingya people. We believe that all commoners are not terrorists. We are really concerned," Banerjee tweeted on September 15.
Hardaha, though large and having a population of over 5,000, is not a prosperous village. However, the Rohingya refugees say the villagers have big heart.
"Soon after we came the police examined our papers and went back satisfied. When they came back yesterday, all of us were worried. Thankfully this is the place where we got the friendliest neighbours," said 26-year-old Shahidul Islam, who hails from Buthidaung in Maungdaw district of the Rakhine state of Myanmar.
In 2015, Islam's elder brother and sister-in-law were gunned down, apart from several of his uncles and cousins, forcing him and six other members of his family, including the 3-year-old orphaned niece, to cross over to Bangladesh. They lived at the Teknaf refugee camp in Cox's Bazar of Bangladesh for about a year until the camps became too overpopulated and living conditions deteriorated.
Early in 2017, they crossed over to India, illegally, through the pourous borders in West Bengal, and settled at Mewat of Hariyana. They also managed to obtain identity cards from UNHCR, the refugee wing of the United Nations, in July 2017.
By that time, however, life at Mewat and Nuh camps had become difficult. Following Bengal chief minister Mamata Banerjee's statement in September, Islam and some of his friends came to Bengal in search of better fortune. Here they met social worker Hossain Gazi, who immediately contacted Muslim NGOs for help.
Early in January, eight families came to settle on a land plot owned by Gazi in his village Hardaha. Others followed.
"In Mewat and Nuh, people were so distressed that some of the families sold their kids for a few thousand rupees for working as rag-pickers and domestic helps," said Daiya Begum in broken Bengali.
She along with her husband, Muhammad Sharif, and five children, came here in mid-February. Her father Abdus Sukur and mother Dolu Begum were killed – 'burnt alive' she alleged – in Myanmar.
Gazi, however, is not alone. "Forty organisations, including those work for Muslims and human rights, have together taken up this responsibility," he said.
Mohammad Kamruzzaman, president of West Bengal Minority Youth Forum, paid several visits to the settlers at Hardaha and helped them with food items. So did activists belonging to various human rights organisations.
"We've demanded that the administration set up proper accommodation for them. We expect the administration to act following the true spirit of the chief minister's tweet," said Ranjit Sur, vice-president of Association for Protection of Human Rights (APDR), Bengal's largest human rights organisation.
Jiten Nandi, editor of Bengali literary magazine Manthan Samayiki, has visited the camp at Hardaha twice. "India has accommodated Tibetan Buddhist refugees, Pashtun refuges from Afghanistan, Hindus and Muslims from Bangladesh Tamils from Sri Lanka. What is the problem with accommodating Rohingyas, who are globally regarded as the most persecuted minority?" he asked.
While support and sympathy seemed to be pouring in for the distressed refugees, West Bengal BJP president Dilip Ghosh accused the state government of indulging in anti-national activities.
"Though our party is not involved, sheltering Rohingyas is not illegal," said local Trinamool MLA Nirmal Chandra Mandal.
"Exciting news! Hindustan Times is now on WhatsApp Channels
Subscribe today by clicking the link and stay updated with the latest news!"
Click here!
Get
Latest India News
along with
Latest News
and
Top Headlines
from India and around the world