Rohtak schools forced to declare holiday as buses deployed for Amit Shah's rally
Many schools on Tuesday night sent texts to parents to inform them of the holiday.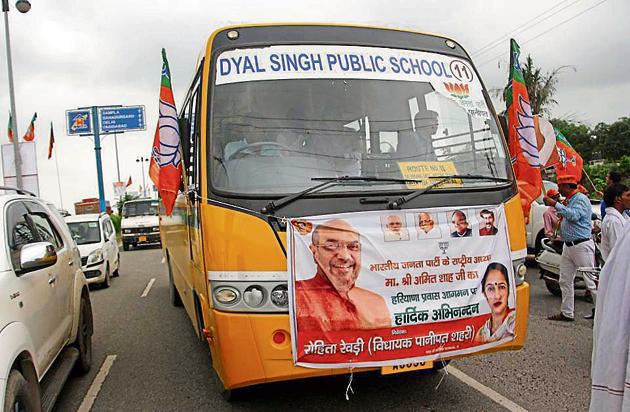 Updated on Aug 03, 2017 12:46 PM IST
ROHTAK Several private schools in the district were forced to declare Wednesday a holiday as their buses were requisitioned for the rally organised to welcome BJP national president Amit Shah in Haryana.
The state government seems to have forgotten the rulebook to welcome its party bosses as it had recently banned the use of school buses for political rallies. State additional chief secretary (home) Ram Niwas, in an affidavit, had told the Punjab and Haryana high court in March this year that instructions were issued to all concerned to implement this ban. He had stated that forcing managements to send their buses for rallies was against the statutory provisions of the Motor Vehicle Act, 1988.
Many schools on Tuesday night sent texts to parents to inform them of the holiday. Some cited potential traffic jams as the reason for closures, while others said their buses will be deputed for Shah's rally as per instructions received from the district administration. "The administration had asked for our buses for the rally. Therefore, many schools, including ours, had to declare it a holiday today," said Ravi Gugnani, director, Scholars Rosary School, Rohtak. HT could not independently speak to all the schools that declared holiday on Wednesday, as buses from schools located in other districts of the state were also used by BJP workers to take part in the rally.
While Rohtak deputy commissioner Atul Kumar did not respond for comments, superintendent of police (SP) Pankaj Nain maintained that the police department did not requisition any school buses. He claimed that no hindrance in traffic was caused in the district.
The private school bodies, that had approached the court citing disturbance in students' studies due to use of buses for political rallies, condemned the government for not following the guidelines
Close Story