Sabarimala ruling 'revolutionary', says Kerala govt; temple head disappointed
Sep 28, 2018 01:16 PM IST
The Supreme Court lifted the Ayyappa temple's ban on women of menstruating age, holding that equality is supreme irrespective of age and gender.
The Kerala government on Friday welcomed the Supreme Court verdict allowing women of all ages to the hilltop temple Sabarimala, but the supreme priest of the temple Rajeevaru Kandarau said the verdict was 'disappointing'.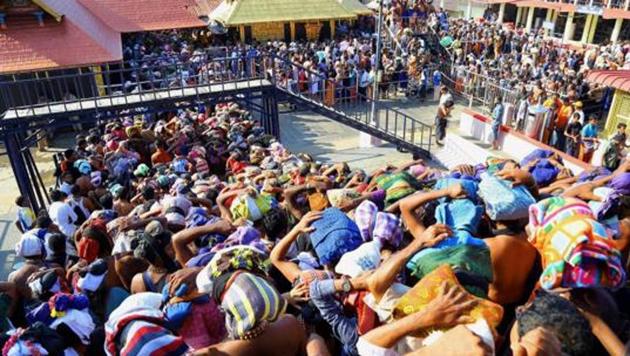 "It was part of the temple's age-old custom. It is really painful for me to dilute it. But since the court said ruled it we have to by its verdict," the temple priest said.
Calling the verdict "revolutionary", Kerala government said the verdict "will open the floodgates. It is an important day in the annals of social justice and gender equality."
"Will implement the verdict in letter and spirit," state PWD Minister G Sudhakaran said .
The Travancore Dewsaom Board, custodian of the temple, however said they would seek a review of the verdict. "We will go for a review petition after getting support from other religious heads," said Travancore Devaswom Board (TDB) president, A Padmakumar, according to new agency ANI.
A five-judge constitution bench headed by Chief Justice Dipak Misra, in its 4:1 verdict, said that banning the entry of women into the shrine is gender discrimination and the practice violates rights of Hindu women.
"Exclusionary practise given support by a subordinate legislation is neither essential nor integral part of religion. We hold rule... is ultra vires,"Chief Justice of India Dipak Misra said.
But after hearing the board and other parties, the bench indicated that the practice appeared to be based on the "patriarchal" belief that a man's dominant status in the society makes him capable of austerity.
For pilgrimage to Sabarimala situated in Western Ghats mountain ranges, a devotee has to observe 41 days' fast followed by a tough trek through forests. Women aged between 10 and 50 are allowed only till Pamba, the base camp before a 5-km arduous trek to the hill shrine begins.
The temple management had earlier told the Supreme Court that the ban on entry of women of the particular age was because they cannot maintain "purity" on account of menstruation.