TMC's Gokhale, BJP's Amit Malviya spar over Gujarat tweet: 'Fake news coolie...'
Dec 11, 2022 06:40 AM IST
Saket Gokhale's arrest in Gujarat had prompted sharp reactions from Mamata Banerjee.
Trinamool Congress's national spokesperson Saket Gokhale and the BJP's IT cell in-charge Amit Malviya on Saturday had a social media showdown over the TMC leader's recent arrest by the Gujarat Police. The 33-year-old leader said he was "arrested, got bail, got re-arrested and got bail again" in a span of days this week over his tweet on the collapse of the bridge in Gujarat's Morbi, which killed over 140 people. The tweet was also linked to Prime Minister Narendra Modi's visit to the site of the incident who was in his home state when the accident took place.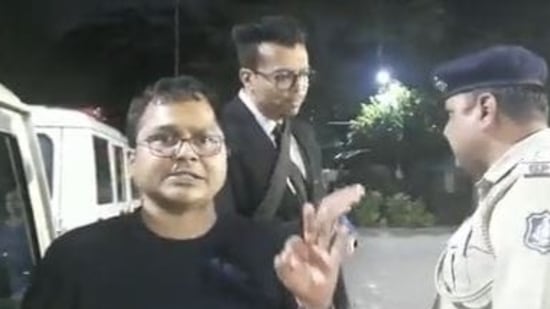 Gokhale's claim in the Morbi bridge post - which said the visit by PM Modi cost ₹30 crore - was termed as "fake" by the Press Information Bureau earlier. "Quoting an RTI, It is being claimed in a tweet that PM's visit to Morbi cost ₹30 cr. #PIBFactCheck ️ This claim is #Fake. No such RTI response has been given. (sic)" it had said at the time.
The action on the Trinamool spokesperson, meanwhile, is the latest flashpoint between the BJP and Mamata Banerjee's party. The Bengal Chief Minister had also lashed out at the rival party, stressing that Gokhale had done nothing wrong.
Now, on Saturday, the BJP's Amit Malviya hit out at Gokhale on Twitter, calling him a "habitual offender". "Saket Gokhale, TMC spokesperson, a habitual offender, thinks playing the victim will absolve him of his crimes. It won't. Publishing something, which is not just fake, but vicious, with intention to create unrest using an emotive issue, is unpardonable. Law will take it's course. (sic)" he wrote in one of the posts.
He also clarified that the "Gujarat police's action against him is not because he chose to target the Prime Minister (this is not Bengal, ruled by a tyrant Mamata Banerjee) but likely because he chose to spread misinformation, to foment trouble using a tragic event, with an intention to influence election."
In retaliation, Saket Gokhale pointed out a grammatical error in Malviya's post, calling him "a fake news coolie". "Hi BJP's fake news coolie, @amitmalviya. The right spelling is "law will take its own course". Not "it's". Best not to comment on stuff that's beyond your IQ which is lower than room temperature in Delhi right now."
The bitter exchange came hours after the Trinamool leader had put out a post against the BJP when he said that the "BJP is hilariously mistaken if they thought this would break me. I'm only going to come at them harder."
In the Morbi bridge collapse, more than 140 people - including many children - had died, triggering outrage and sharp criticism from the opposition against the BJP, which recently earned its seventh term in the state.