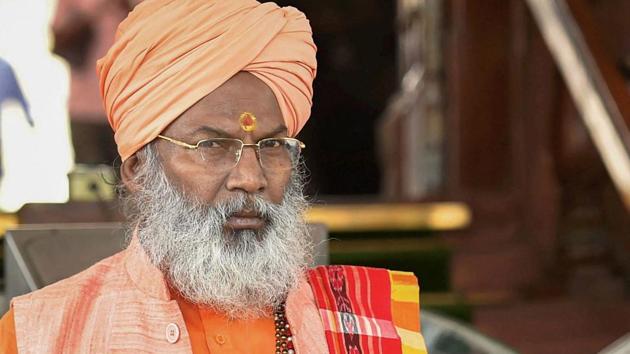 Sakshi Maharaj draws flak for inaugurating 'nightclub', says he was tricked
The owner of the establishment in Aliganj claimed that it was not a nightclub but a restaurant where no liquor would be served.
Press Trust of India, Unnao | By Press Trust of India
UPDATED ON APR 16, 2018 08:14 PM IST
Bharatiya Janata Party MP Sakshi Maharaj drew criticism and ridicule for inaugurating a 'nightclub' in Lucknow on Sunday night.
As the pictures of the saffron-clad Hindutva leader at the venue in the posh Aliganj locality of the state capital circulated, the MP claimed that he was "tricked" into attending the event which had harmed his image and demanded that police take action against the "culprit".
However, the owner of the establishment claimed that it was not a nightclub but a restaurant where no liquor would be served. He claimed that there was "typographical error" in the invitation card.
Photographs showing the 62-year-old Unnao MP accepting an idol of Lord Ganesh were put on the social media while TV channels too aired visuals of the event.
The MP's representative Ashok Katiyar claimed that a senior BJP leader "tricked" the MP into attending the function.
"The MP was to leave for Delhi but a senior office bearer of the party took him to the function saying that it was organised by his close relative," Katiyar said.
Even after reaching there, he was not told that he had to inaugurate anything and was made to do it all of a sudden, Katiyar claimed, adding that it could also be part of "some conspiracy".
"Since the 2019 elections are just round the corner, MPs do attend various events and making inquiries about all the things does not always look nice," Katiyar said.
He also said the BJP MP has written a letter to the senior superintendent of police of Lucknow, alleging that he was tricked into inaugurating the "nightclub".
"I came to know later from the media that the restaurant which I inaugurated is a nightclub...this incident has harmed my image," he said in the letter.
The MP also demanded an inquiry and action against the guilty.
The owner of the establishment Sumit Singh said it was a restaurant that served vegetarian food.
In a similar case last year, a minister in the Yogi Adityanath government Swati Singh had drawn flak for inaugurating a beer bar in Lucknow.
Taking a jibe at the ruling party, Samajwadi Party spokesperson Ghanshyam Tiwari said, "It is very clear that the BJP government and BJP leaders have no idea as to what they were doing."
Unnao district has of late been in news after allegations of rape were levelled against BJP's Bangarmau MLA Kuldip Singh Sengar. The MLA was arrested by the CBI after the case was handed over to the central probe agency last week.
The state government has been under fire for not taking appropriate action against Sengar.
Close