Sabarimala deity has the right to privacy, says SC
New Delhi |
HT Correspondent
Aug 01, 2018 11:44 PM IST
The Kerala government, which has been changing its stand on the contentious issue of women of a particular age group entering the Sabarimala temple, had on July 18 told the Supreme Court that it now favours their entry.
The presiding deity of Kerala's Sabarimala temple, Lord Ayyappa, is a perpetual minor and has rights including the right to privacy with regard to certain rites observed at the shrine, the Supreme Court observed on Wednesday. The observation came as the court concluded hearing on the issue of ban on women from entering the temple.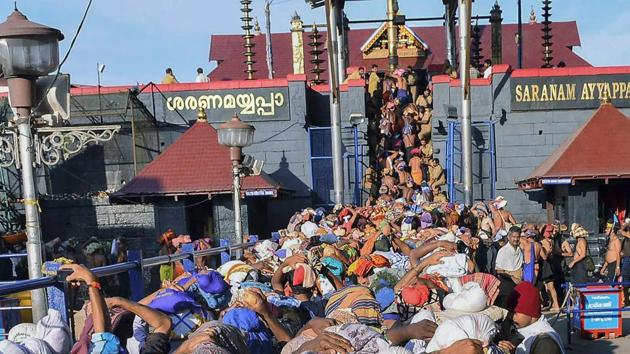 "But whether the right of privacy is the same as reflected in the judgment that recognizes privacy as a fundamental right will have to be examined," said Chief Justice of India (CJI) Dipak Misra in reference to the argument that the deity has some fundamental rights.
Lawyer Jaideep Gupta, who appeared for the Kerala government that favours the entry of women, argued the state is empowered to make laws not just for secular issues like administration of temples but also for religious matters.
Gupta told a CJI-led five-judge Constitution bench that Sabarimala Temple cannot claim to be a distinct "denominational unit" as it does not have identifiable features. "Moreover, the celibate status (Naishtik Bharamchari) cannot be a ground to bar entry of women in the temple."
K Ramamurthy, amicus curiae in the case, earlier supported the ban. He submitted the state can interfere in the temple's secular affairs but not in religious matters. "Temples in South India were taken over by state governments for political reasons as they bring money to the state. But the state can only interfere with secular affairs related to management."
Senior advocate Raju Ramachandran, another amicus curiae, prayed for striking down the ban. "Morality in its very nature includes constitutional morality. Validity of impugned rule needs to be tested on constitutional morality."
Lawyer Indira Jaising, who appeared for the petitioners, argued the temple rules restricting entry of women between the age of 10 and 50 were discriminatory as they were based on sex alone. She cited the Constitution and contended that any custom or practice which violates its Articles 14 and 15 pertaining to equality should be struck down.
She opposed the contention that the deity was a living juristic person with fundamental rights. "Deity being juristic person means nothing but right to sue and be sued. Deity enjoys no other rights."
Senior advocate Sanjay Hegde explained the idea of a juristic person and fundamental rights. "It only means by a legal fiction an idol is a juristic person like a company. Now the question is does a company or an idol have the same right to privacy as an individual that has to be decided."