Security in North East better, insurgency down by 85%, says home minister Rajnath Singh
Hindustan Times, Guwahati/Shillong |
Sadiq Naqvi and David Laitphlang
Jul 09, 2018 10:55 PM IST
Home minister Rajnath Singh however said there was a need for a forum to address inter-state and security-related issues,including boundary disputes, narcotics and arms trafficking.
The security situation in North East has "improved drastically" in the last four years since NDA government came to power, with insurgency related incidents coming down by 85 per cent as compared to the 90s, Home Minister Rajnath Singh said in Shillong in his address at the 67th plenary session of the North Eastern Council (NEC) on Monday.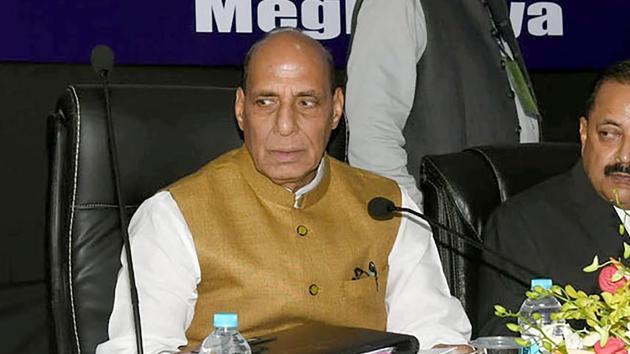 "There is 96 percent reduction in civilian and security forces casualties," he said as he pointed out how AFSPA has been lifted from Meghalaya and its coverage area reduced in Arunchal Pradesh.
The Home Minister, however, stressed on the need for a forum to address inter-state and security-related issues,including boundary disputes, narcotics and arms trafficking, and common approaches for tackling terrorism and militancy in the region.
"The NEC, having the Governors and Chief Ministers of the North Eastern states as its members, can provide a common forum for discussing the two aspects in a comprehensive manner in the presence of top functionaries of the two Union Ministries," the Minister said.
Meanwhile, Singh also asked the North-Eastern states to expedite work on long pending projects of the North Eastern Council (NEC) and ensure maximum utilisation of funds. He urged the eight states for effective implementation of the recently approved financial package of Rs 4,500 crore by the Centre, even as he pushed for civil society-led social audits.
Meanwhile, Singh reminded the audience that the Union cabinet had approved the North East Industrial Development Scheme (NEIDS) in March, with an initial outlay of Rs 3,000 crore.
NEC secretary Ram Muivah said that nearly 200 new projects sanctioned in the past year will remain in abeyance until they are examined by a committee consisting of DoNER and NEC secretaries.
According to the NEC secretary, projects delayed for more than two years from the target date of completion should aim to be completed at the earliest with due formalities. Those delayed by more than five years in Arunachal Pradesh, Assam, Nagaland, Meghalaya and Mizoram will be shut down immediately, he added.
Mizoram Chief Minister Lal Thanhawla, who spoke at the plenary beside other chief ministers, meanwhile, criticised how decision to reposition NEC for conflict resolution, development planning and knowledge hub and rolling out of new NEC scheme for 2018-2020 was taken by the Union Cabinet even as "such decision is expected to be determined by the plenary meeting of the North Eastern Council." He also underlined how "Rs 4500 crores earmarked for the new NEC scheme for the whole north eastern States during 2017-18 to 2019-20 is going to be too less to have meaningful impact for the region's Development."
Nagaland Chief Minister Neiphiu Rio demanded clarity on the roles of several bodies. "Another challenge is that there are multiple bodies and agencies like the NEC, DoNER and the recently created North East Forum. There is a need for clarity on the roles between these bodies," he said even as he explained how the decision to put on hold all the new projects sanctioned from April 2017 onwards may not prove beneficial in the long run.
Assam Chief Minister Sarbananda Sonowal, meanwhile urged the NEC to take up with External Affairs Ministry to simplify existing visa regime and pitched for more consulates of ASEAN countries in Assam beside the consulates of Bhutan and Banlgadesh which are already functional. Pointing out how Act East is contingent on robust transportation networks Sonowal informed that centre has declared 15 new national highways but how the implementing agency NHIDCL's work is far from satisfactory.
Arunachal Pradesh Chief Minister Pema Khandu, too, asked the NEC to explore possibility of forming a separate fund which focuses on big road projects and pointed out how the funding under North East Road Sector Development Scheme, under the NEC "must be increased as the amount of Rs 1000 Crore is very meagre for taking such a big project."
Khandu also urged DONER Ministry to provide funds for Green Field Airport at Hollongi in Itanagar even as Rio reminded how Kohima is still without an airport.