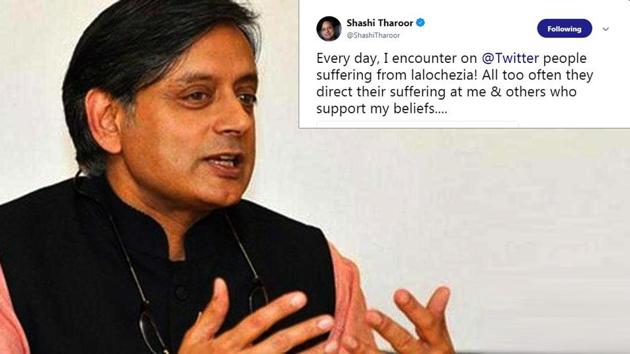 Shashi Tharoor is back with a new word, this time it's a dig at his trolls
Shashi Tharoor is back with his latest 'Word Of the Day'.
UPDATED ON APR 10, 2018 06:14 PM IST
There are only a few people who can match up to the level of Congress leader Shashi Tharoor when it comes to eloquent vocabulary and impeccable mastery over the English language.
Tharoor, as we all know, also has a habit of throwing the most obscure word in his tweets that often sends tweeple looking for a dictionary.
The Congress leader on Tuesday was back with his latest 'Word Of the Day' lalochezia and this time it was a sly dig at his trolls.
"Every day, I encounter on @Twitter people suffering from lalochezia! All too often they direct their suffering at me & others who support my beliefs," Tharoor wrote as he introduced the new word.
Online Collins Dictionary describes lalochezia as "emotional release gained by uttering indecent or filthy words".
Users were not only excited to learn a new word from Twitter's favourite English teacher, but were also impressed with his "two birds with one stone" move.
READ MORE:
A farrago over rodomontade: Shashi Tharoor sends Twitter scurrying for dictionary, again
Shashi Tharoor's 'snollygoster' amuses Twitter, some think it's a jibe at Nitish Kumar
Tharoor has in the past given us a taste of his impressive linguistic prowess with words like farrago, rodomontade, webaqoof and snollygoster.
Sample some hilarious reactions here:
Close