Shatrughan Sinha by his side, Yashwant Sinha backs Hardik Patel's stir
Updated on Sep 05, 2018 01:13 AM IST
The two political veterans arrived at the Patidar leader's Ahmedabad residence on Tuesday afternoon and declared that his agitation will no longer to restricted to just Gujarat.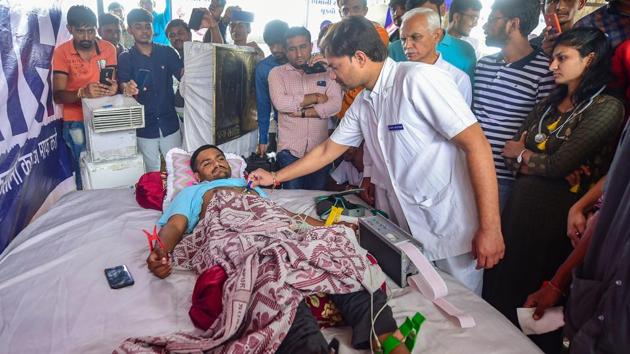 Former NDA finance minister Yashwant Sinha and actor-turned-BJP politician Shatrughan Sinha met Patidar quota stir leader Hardik Patel at his residence as his fast unto death entered the 11th day on Tuesday.
The veteran politicians arrived at the 25-year-old leader's Ahmedabad residence in the afternoon and declared that Hardik's agitation will no longer be limited to just Gujarat, but will be taken to the national level. "Today, everyone is talking about his agitation. His demands are our demands. This will no longer be a Gujarat-specific agitation, but will be taken up at the national level," said Yashwant Sinha.
"Hardik symbolises today's youth. And, though he has been on hunger strike for 11 days and lost 20 kgs, the BJP has not come forward for talks," said Shatrughan Sinha. "Some want to construct Ram temple, others mosques, but we are here for manav mandir (temple of humanity).''
Hardik has been demanding OBC reservation for his Patidar community and farm loan waiver.
From over 77 kg at the beginning of his fast on August 25, Hardik's body weight, as per medical bulletin given by the staff of Sola Civil Hospital on Tuesday, had reduced to 58 kg. The medical team, which visits him twice daily for the check-up, has advised him to get admitted and take treatment as avoiding food intake further will start adversely affecting various organs.
As support from political leaders continued to pour in for Hardik, the BJP maintained its stand that it's a Congress sponsored event. "We are concerned about his health and Hardik should listen to what the doctors have to say," said finance minister Saurabh Patel, adding, "Rest is we know that it is the Congress members who are advising him behind the scenes. Besides, only Congress, anti-BJP and anti-Modi groups have visited him. The BJP government has been with farmers as and when they require."
The six religious organisations, consisting of both Leuva and Kadva Patidar sections, have come forward to mediate between Hardik and the government to bring an end to the hunger strike.
"If Hardik gives us in writing that he wants the Patidar organisation to mediate, then we are ready to do so. Earlier too, at various levels the organizations have held talks with the government over the quota issues and will continue to do so," said CK Patel, a community leader, on behalf of the Patidar organisations.
Close Story
Personalise your news feed. Follow trending topics