Shia Waqf Board chief meets Sri Sri, favours Ram Temple at disputed site
Updated on Oct 31, 2017 03:06 PM IST
UP Shia Central Waqf Board chief Waseem Rizvi said the mosque should be built in a Muslim-dominated locality.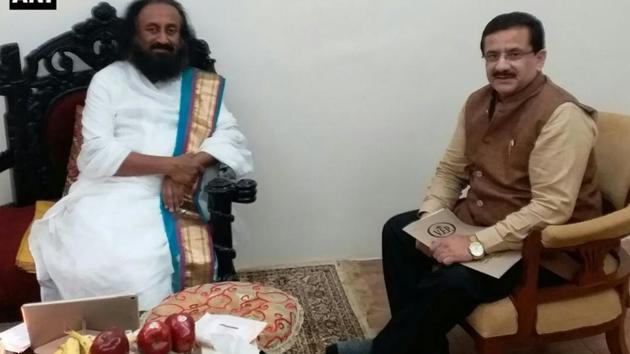 Chairman of the UP Shia Central Waqf Board Waseem Rizvi met Art of Living founder Sri Sri Ravishankar on Tuesday to find an amicable out-of-court settlement in the legal case over the Babri-Masjid-Ram Temple dispute in Ayodhya.
"I met Gurudev Sri Sri ji and insisted that the Ram Temple should be built on the Ram Janmbhoomi site itself and that there was no need to construct a mosque there. The mosque should come up in a Muslim-dominated locality, if required, as there are already enough of them to cater to the Muslim population in Ayodhya and Faizabad," Rizvi told HT after the meeting.
On October 27, some members of the All India Muslim Personal Law Board (AIMPLB) had also met Sri Sri to discuss the issue.
Rizvi said the AIMPLB has no role to play in the dispute as it was not a party in the on-going case and only the Shia Waqf Board has the claim and right to the land in question.
Though the AIMLB is not a party in the case, being the apex Islamic body on religious and personal matters it wields considerable influence over the community.
"I have met all the Mahants and those fighting the court battle for the construction of Ram Mandir in Ayodhya. They have all agreed to a mutually agreeable solution. The Shia Waqf Board is drafting the terms and conditions of a mutual agreement," he said.
Rizvi, however, refused to disclose what Sri Sri Ravishankar said to him.
Not all Shia clerics, however, support the Board's stand.
Majlis-e-Ulama Hind, an umbrella organisation of Shia clerics, has already disassociated itself from the Board's stance.
"Only a mosque can be built at the site. The mosque does not belong to any Shia or Sunni; it is the house of God and belongs to Him. The UP government has a dossier of Waseem's misdeeds in the Board and is going to order a CBI probe," said Shia cleric Maulana Kalbe Jawad.
He said Rizvi was raising the issue to placate the BJP and save his skin.
A one-time close associate of the Samajwadi Party leader and former UP minister Azam Khan, Rizvi has staked the Board's claim in the Ayodhya dispute after SP lost power in UP.
His detractors feel that his new-found enthusiasm urging Muslims to give-up their claim in the case is because he is in the cross-hairs of the Yogi Adityanath government for alleged bungling and misappropriation of waqf properties.