Sikkim's organic farming mission at stake due to attacks from wild animals
Mar 25, 2018 04:20 PM IST
The menace by wild animals has put at stake the Pawan Chamling government's ambitious mission of switching to organically farmed products completely by March 31 in the state.
Balkrishna Sharma has given up cultivating potatoes and maize in his small plot near Pakyong in east Sikkim. So have many farmers like him. The reason: constant attack by wild animals.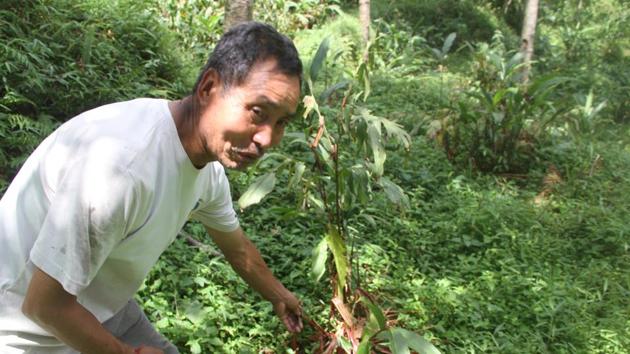 Some have switched to cultivating alternative crops like tea to save their crops and continue their livelihood.
The menace has put at stake the Pawan Chamling government's ambitious mission of switching to organically farmed products completely by March 31 in the state.
This means there would be a stoppage on the trade of items not produced organically, from other states and countries, in Sikkim's markets.
Started in 2016, the tiny Himalayan state's organic mission had won it accolades from around the world.
But to meet its objective by the deadline, the state has to produce vegetable and fruits organically in sufficient quantities to ensure there is no shortage in the markets.
"The state already has 76,000 hectares of certified organic farming land. Sikkim produced about 80,000 tonnes of vegetables in 2017. This has to increase in the near future to cater to the need of the state's more than 6 lakh people and 14 lakh tourists visiting the state every year," said agriculture minister, Somnath Poudyal.
Desperate to salvage his mission, Chamling assured farmers that they would not face punishment if they kill wild animals to protect their crops.
"People can chase away wild animals that enter farms to damage crops, or to eat goats and chicken. They can chase away animals using stones, sticks or weapons. No legal action would be taken if the wild animal is killed in the process. It will be treated as accidental death," Chamling had said on March 10 in the state assembly.
Chamling also directed the forest department to issue an executive order immediately.
The wild animals named by the chief minister are cheetah, leopard, wild boar, monkey, bear, porcupine, rats, jackal, wild cat.
"Farmers have the rights to protect their produce," said Poudyal, who is also the animal husbandry minister, adding that the ban on the entry of non-organic produce would be strictly implemented from March 31.
The government has also been encouraging youths to take up organic farming.
But the state, which has about 50,000 farmers, has seen about 25% quitting over a couple of years, according to an official in state agriculture department.
One of the factors contributing to the farmers turning away from agriculture is the increase in the population of wild animals, which can be attributed to the government's ban on hunting in forests in 1999.
According to Sarala Khaling, regional director, Ashoka Trust for Research in Ecology and Environment for north-east India, "Villages located near forests in the Darjeeling-Sikkim Himalayas are most vulnerable to crop depredation by wildlife."
But there is hardly any region in Sikkim where agricultural activities do not experience attacks by marauding wild animals.
Farmers of Daramdin constituency in West Sikkim have expressed their helplessness to protect their potato harvest from wild boars.
At Parakar village near Pakyong in east Sikkim, many farmers have either stopped cultivating altogether or have shifted to tea cultivation, due to fear of wild animals.
People moving into forests to collect edible flowers, roots and fruits are also responsible in drawing wild animals out of the forests into farmlands.
Chamling has said that the government will restrict people from moving into the forests to tap what animals can eat in their natural habitat.
"If this continues, I doubt whether the state government's organic mission would succeed," said Balkrishna Sharma, a marginal farmer near Pakyong in east Sikkim.