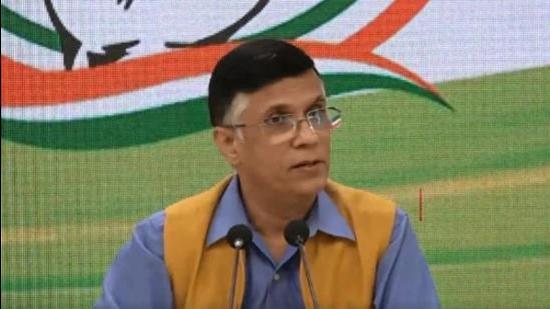 'Smells of a scam': Cong slams govt for 'siphoning off thousands of crores'
Congress spokesperson Pawan Khera said the DoT has been awarding projects to private parties indirectly.
By Umar Sofi
UPDATED ON JUL 17, 2021 09:25 PM IST
Congress on Saturday hit out at the Ministry of Electronics and Information Technology for "siphoning off money worth thousands of crores" from Universal Service Obligation Fund (USOF), which is pooled by the private telecom operators of the country for enabling rural Indians to be effectively connected through a reliable telecommunications network.
Invoking a Comptroller and Auditor General's (CAG) report, Congress spokesperson Pawan Khera said, "From July 2019 to December 2020, the Ministry of Electronics and Information Technology has given crores of rupees towards Common Services Centres (CSC) for maintenance and operation of optical fibre cables in the country. CAG says that this money came from Universal Service Obligation Fund (USOF) is a pool of funds generated from the levy that is charged upon all the telecom operators".
Khera added that there has been no clause in the agreement with these companies offering the services to the government through which the USOF could impose a penalty on them if their work was unsatisfactory.
He added that there is also no "service level agreement" which means that these companies are not responsible for timebound redressal of complaints.
Quoting the CAG report, Khera said that in absence of a prescribed timeline for restoration of faults and non-inclusion of the penal clause, "there was no deterrent for CSCs to ensure that there is no delay in rectification of faults."
Khera added that the Department of Telecommunication has been draining the USOF by allotting projects to various private partners worth crores of rupees and this has been happening for over a year without issuing any tenders.
"Department of Telecommunications (DoT) has been awarding projects to private parties indirectly through… CSC Wi-Fi Choupal Services India Private Limited," he said.
CSC Choupal is an e-governance initiative for the development of digital infrastructure in the villages.
What Khera called a "modus operandi of the government," he said that the USOF would propose newer projects to the Digital Communication Commission of the telecommunication department and their approval was sought and later these projects were awarded to CSC Choupal.
"CSC Choupal would then pass these projects to CSC-SPV (special purpose vehicle or a subsidiary company formed to undertake a specific business purpose). This CSC-SPV would actually be a private company branded as a CSC and this happened without issuing any tenders," he said, adding that this has been one of the reasons for a reshuffle of the Minister of Electronics and IT.
Khera added that as per the website of the Department of Telecommunication (DoT), as of January 2021, the USOF had collected Rs. 1,12,650 Crores, out of which, ₹57,433 crores have been disbursed.
"Case in point is what happened in Bihar where the CSC-SPV submitted a proposal on September 13, 2020, to the Ministry of Electronics and IT offering to provide Fibre To The Home (FTTH) and Wi-Fi connections to all villages in Bihar. The estimated cost of this project was 630 crores. But, USOF calls this mega project a pilot project. On 19 September 2020, the Digital Communication Commission (DCC) approved the above proposal for Bihar and on 15 October, USOF issued a letter to CSC-SPV on nomination basis without a tender to start work," he said.
Khera added that no agreement was signed yet and an RTI filed with the Ministry of Electronics and Information Technology revealed that it is a private company.
"On 23 November 2020, the CSC-SPV requested USOF by email to release mobilization advance (30%) of the total cost of the project. And, surprisingly, the USOF under the DoT moved a proposal on that day itself to release 189 crores as advance. Additional administrator for USOF made a noting on the file saying, as no agreement is available, the payment cannot be released," Khera said.
He added that following this, the administrator of USOF, Ms Anshuli Arya, on the 23rd November 2020, wrote, "Honourable PM has inaugurated this project on 21 September 2020. The agreement has not been finalized and is likely to take time. The project is running on a very tight schedule. Therefore, the advance as approved by the DCC is approved. However, the second payment will be made only after the signing of the agreement and reaching the milestone, if any."
As per Khera, Rs. 189 crores were then released to CSC-SPV without any formal agreement.
He also said that Mr Vara Prasad, consultant, USOF, had moved a proposal to amend the Indian Telegraph Rules (ITR) for "facilitating the award of contracts on nomination basis to CSC-SPV."
"On 2nd November 2020, Ms Anshuli Arya, administrator of USOF has approved it. The file then went to the Secretary, Telecom through the Member (Finance) of Digital Communication Commission. We do not know the status of this," Khera said, adding that the whole award of the USOF contracts "smells of a scam".
Close