Social media ban: Some Kashmiris baffled, others suggest ways to defy it
Updated on May 28, 2017 10:36 AM IST
The Jammu and Kashmir home department ordered a suspension of 22 social media platforms - Facebook, Twitter, WhatsApp, QQ, WeChat, QZone, Tumblr, Google+, Baidu, Viber, Line, Snapchat, Pinterest, Telegram, Reddit, Snapfish, uploading video on YouTube, Vine, Xanga, Buzznet and Flickr.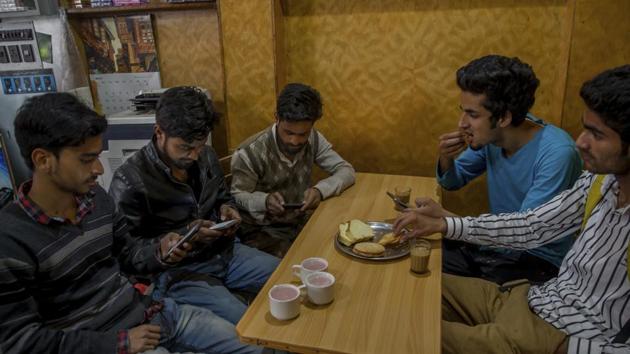 Mehraj Din, a PhD scholar of Islamic Studies at Kashmir University, is in a fix after the state government suspended the use of 22 social media and messaging platforms for a month.
Selected for a prestigious summer programme in Ihsan Academy at Istanbul in Turkey, he had a scheduled Skype interview, the final step in the selection, next week.
But Skype is among the 22 platforms which he and others in Kashmir cannot access.
"I am looking for an alternative. I have written to the Academy about the situation here," Din said.
Though the word about a possible social media ban was already out in the trouble-torn Kashmir Valley for a few days now, Wednesday's order came as a surprise to most users because it listed 22 platforms and not just three – Facebook, Twitter and WhatsApp – as they had expected.
When rumours of a ban on Facebook and WhatsApp were doing the rounds last week, people uploaded their Twitter and Telegram handles asking their friends to follow them there.
The curb is being seen as the harshest ever on social media, coming after a similar ban on mobile internet for months after the killing of Hizbul Mujahideen militant Burhan Wani in an encounter in July last year.
The order, signed by principal secretary in the home department RK Goyal, lists 18 other platforms – QQ, WeChat, QZone, Tumblr, Google+, Baidu, Viber, Line, Snapchat, Pinterest, Telegram, Reddit, Snapfish, uploading video on YouTube, Vine, Xanga, Buzznet and Flickr.
As soon the list was out, a Srinagar-based journalist said, "Most in the list are those about which we have never heard of. Surprising that Instagram has been let off – I know many who use that app to upload pictures and videos about protests."
The authorities had suspended 3G and 4G mobile internet services last week, in an apparent move to curb uploading of conflict-related videos and photos which could worsen the law and order situation.
"Yes, the magnitude is a surprise. We had heard the government was planning something big, but then such a long list is a shock in some ways," said Yasir Zargar, a cyber security expert based in south Kashmir.
"What is sad is that it will affect several sections of people who depend on social media for business or other purposes," he added.
Those who had asked Zargar about how to stay connected in case Facebook, WhatsApp was banned before the order came in, he suggested messaging platforms Telegram and Signal – both encrypted communications platforms. Telegram has been blocked but Signal is not on the list.
But for tech-savvy Kashmiris like blogger Muhammad Faysal, the curb isn't a big deal as there are alternative communication tools that do not need internet connection.
"This is an instance when every act of yours becomes an act of rebellion," he said.
"It's the state's response to peaceful dissent on the internet. And as much as the state might want to curtail social media, it can't. There are thousands of ways in which the ban can be broken. One can use a Virtual Private Network (VPN), use Signal or Instagram," he added.