Social media used to disrupt GST adoption: Govt officials
The government has been closely watching reactions to GST since its implementation.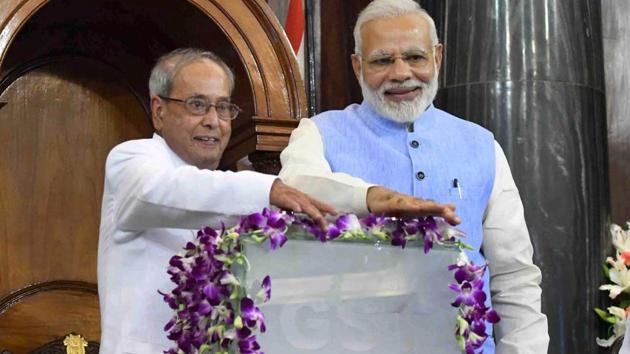 Published on Aug 10, 2017 11:15 PM IST
Social media is being used to disrupt the smooth adoption of the Goods and Services Tax (GST), say top functionaries of the government. "There are several sectors where social media campaigns have been created by people with vested interests to create dissent against GST," said a top government functionary.
GST kicked in on July 1, and the past one month has seen a more or less smooth adoption, albeit discontent among some sector-specific traders and manufacturers.
Mindful of the disruptive potential of a new indirect tax, the government has been closely watching reactions to GST since its implementation.
Since the announcement of the 4-tiered rates of GST, various groups have been vocal on social media, for example, the 5% tax on assistive devices for the physically challenged; an issue that also found favour with Congress vice-president Rahul Gandhi.
Last month, Gandhi had accused the Modi government of being insensitive and tweeted: "GST on disability aids like wheelchairs and Braille typewriters once again shows this government's complete insensitivity towards our most vulnerable. Congress Party demands a full rollback of this 'disability tax' that will put millions of our disabled people through further hardship."
Several representative groups also held protests against the move to tax devices for the disabled, from Braille to talking books, wheelchairs etc.
"Since the final consumer tax is lower than the tax on inputs, a manufacturer can claim refund. If these devices were taxed at zero percent then there would be no tax credits making them more expensive," said the functionary quoted above.
While devices for the disabled are taxed at 5%, but inputs and raw material for manufacturing of these assistive devices attract 18% GST. So manufacturers can seek tax credit for inputs.
"So these are outrages manufactured with vested interests. It is easy to spread as most people don't bother to understand logic of taxing a product," said a government source who did not wish to be quoted.
Sources point to the outrage that a 12% tax on sanitary napkins caused. Activists, political parties and citizens took to social media condemning the government for neglecting needs of women.
But finance ministry officials explained that the GST rate of 12% is a shade lower than 13.7% in the previous indirect tax regime.
"This was a campaign engineered by Chinese companies," alleged a government source. Imports from China account for a quarter of the sanitary napkin market, and without GST and the input credits it offers, local makers would lose out to these imports, explained the source.
Same is the case with GST on hybrid cars, alleged sources. They say that a foreign automaker is behind the campaign against GST on hybrid cars.
Under GST, all hybrid automobiles attract the top tax rate of 28% plus a 15% cess. This is the same rate as that for large luxury cars and SUVs.
Communication experts have always credited BJP and its supporters for effective use of social media. "It is ironic that they are now at the receiving end of social media campaigns. They were the first movers when its comes to fully utilising the impact of social media campaigns," said an activist who has been protesting against the 5% GST on disability devices. He did not wish to be named.
The government is confident that the benefits of GST will soon convince the cynics to drop their protest against the new indirect tax.
Close Story