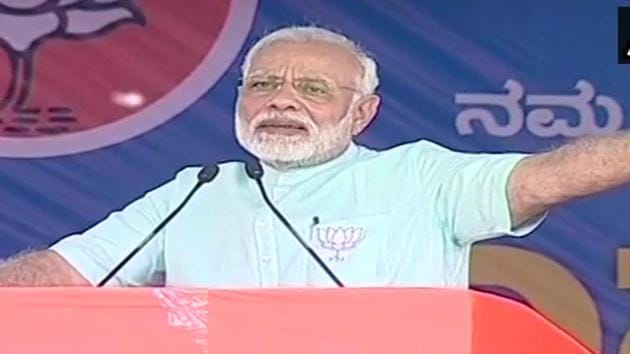 Now, Modi dares Rahul to speak in Hindi, English or mother tongue for 15 minutes without help from a paper
Narendra Modi accused Karnataka's Congress government, which he claimed was steeped in corruption, of thwarting the Centre's efforts for development.
UPDATED ON MAY 01, 2018 03:49 PM IST
Prime Minister Narendra Modi on Tuesday launched his campaign in Karnataka, took a jibe at Congress president Rahul Gandhi and dared him "to speak in any language" for 15 minutes on achievements of Siddaramaiah govt without reading out from piece of paper.
"I challenge you (Rahul Gandhi) to speak for 15 minutes on the achievements of your government in Karnataka without reading from any piece of paper. You can speak in Hindi, English or your mother tongue," Modi said.
Modi was responding to the Congress president's April 17 statement in Amethi, where he said, "Modi is afraid to stand in Parliament... If I am allowed to speak for 15 minutes on the Rafale issue in Parliament before Modi, he will not be able to face it." (Live updates)
Speaking at an election rally in Chamarajanagar, the Prime Minister said, "I dare the Congress president to speak in Hindi, English or the mother tongue of his mother to deliver a speech in Karnataka for 15 minutes, without reading out from a piece of paper, on the achievements of the party government...people of Karnataka will draw their own conclusion.
Addressing the first of the 15 election rallies he is scheduled to address over the next few days, Modi attacked Rahul Gandhi and said, "His speaking for 15 minutes itself is a big thing. And when I hear that I would not be able to sit, I think...wow, what a scene it is? Congress president, Sir, we cannot sit before you. You are 'naamdar' (famous), while I am 'kaamdar' (ordinary worker). We have no status to sit in front of you," he said.
Greeting the workers on the occasion of "May Day", Modi also took a dig at Gandhi for not acknowledging the contribution of workers towards 100 per cent electrification of villages achieved under his government.
"April 28th is a day that will be written in golden" letters in country's history, because our hardworking people" made electricity reach the last unelectrified village Leisang in Manipur.
"But the new leader of the Congress did not utter two words of praise for the workers who made it possible," Modi said.
(with PTI inputs)
Close