Modi in Karnataka Highlights: Congress fears loss in election, that's why they are spreading lies, says PM
PM Narendra Modi launched the second leg of his campaign blitz in poll-bound Karnataka on Tuesday.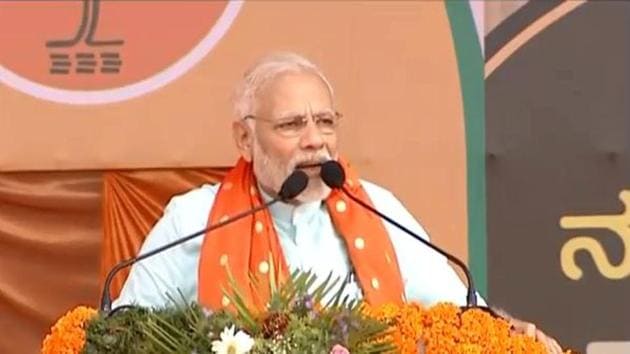 Updated on May 01, 2018 08:46 PM IST
Prime Minister Narendra Modi on Tuesday launched his election campaign in the poll-bound Karnataka to add heft to the BJP's efforts to unseat the Congress and form government in the southern state for the second time.
Modi addressed rallies in Santhemarahalli , Udupi and Chikkodi.
Polling for the 224-member Assembly will be held on May 12, and results will be declared on the 15th of the month.
Here are the highlights:
6.57pm: PM Modi ends his speech, exhorting people to vote to change the government in Karnataka.
6.56pm: I'm fighting against corruption and black money and I need your help. Under Yeddyurappa's leadership, vote for a BJP-majority government: PM Modi
6.54pm: Everywhere in the world, India is being hailed. It's not because of me, it's because of you. You elected a majority government. Elect us and you will be able to ask for proof of the promises we make: PM Modi
6.51pm: Congress fears loss in elections and that is why its leaders are spreading lies and fear among people: PM Modi
6.50pm: Empowering the villages, farmers and the poor is our only motive. Every Budget that we have implemented has welfare of the poor at its core: PM Modi
6.47pm: Farmer welfare is a priority for us. We brought the soil health cards, ensured MSP at 1.5 times of input cost, implemented the Fasal Bima Yojana: PM Modi
6.43pm: We want our farmers to become prosperous. That is why we ensured neem coating of urea. This significantly helped the farmers and stopped black marketing of urea to chemical industries: PM Modi
6.42pm: What has the Congress government in Karnataka done to address farmer distress? Why did they not ensure proper irrigation facilities to the farmers: PM Modi
6.41pm: Congress must answer people of the state what work they have done in Karnataka: PM Modi
6.39pm: Congress is jealous because it was our government that got the majority, a person from humble background became the Prime Minister: PM Modi
6.37pm: Just like any fish cannot survive without water, Congress cannot live without power. That is why they are spreading lies, dividing people on the grounds of caste: PM Modi
6.35pm: PM Modi begins his address at rally in Belgavi. "Congress never respected Baba Saheb Ambedkar. They never accepted Baba Saheb's views," he says.
3.55pm: PM Modi ends his address at Udupi. He will also address a rally at Chikkodi in Belagavi at 6pm today.
3.40pm:
3.35pm: Govt opened bank accounts for the poor. Over 31 crores accounts have been opened under Jan Dhan Yojana. If Congress had ensured their bank accounts, the poor would have contributed so much to the economy, says PM Modi.
3.32pm: On one side, the government at the Centre is bringing out schemes for Ease of doing business. But in Karnataka, they are not interested in Ease of Doing Business. They (Congress govt) believe in Ease of doing murder. This is the culture they have developed: PM Modi.
3.30pm: Violence cannot exist in a democracy. It is shameful how BJP Karyakartas were murdered in Karnataka. The Congress must answer on increasing crimes, PM Modi says in Udupi.
3.28pm: Your love is such, that language cannot act as a barrier between us: PM Narendra Modi to the audience at a rally in Udupi.
3.25pm: Our government will leave no stone unturned to fulfill aspirations of people of Karnataka and ensure all round development of the state: PM Modi.
3.22pm: I will not let your hard work go in vain, I will return this love in the form of development, says PM Modi in Udupi.
3.15pm: Narendra Modi begins his address at the public rally in Udupi.
3pm: PM Modi reaches venue of Udupi rally, welcomed with chants of 'Namma Modi'.
12.55pm: Narendra Modi ends his speech at Chamarajanagar. He will next address a rally in Udupi at 3pm.
12.45pm: Karnataka's voters on May 12 have to choose between the Bharatiya Janata Party that has its work to show and the Congress which has only the name of its top leadership, said PM Modi.
12.42pm: In Karnataka there is no law, there is no order. The Lokayukta is not safe, how can the common people be safe, says PM Modi.
12.36pm: Congress CM Siddaramaiah is flustered. He is fighting elections from two seats and he has put his son in a third seat. Two plus one formula for the CM. Congress ministers and their children are fighting elections too--that's one plus one formula. Family politics is hurting Karnataka: Modi
12.29pm: Congress president [Rahul Gandhi] challenged me to debate with him for 15 minutes in Parliament. He said I won't be able to sit after his speech: Modi
That's true. How can people who work (kaamdaar) sit along with people who just have their name (naamdaar), says Modi
12.22pm: Manmohan Singh, as prime minister, had promised electricity to all villages by 2009. Madam Sonia Gandhi took that further and said electricity to all by 2009, says Modi in attack on top Congress leadership
The Congress is led by leaders who have no respect for India's history. I was shocked that they even went to the level of disrespecting 'Vande Mataram', adds Modi.
12.20pm: Perhaps due to over excitement, newly elected Congress President forgot decency. He did not bother to congratulate the hardworking 'Mazdoors' due to whom India's villages are getting electricity: PM Modi.
12.18pm: I want to dedicate the historical achievement of the country on 28 April, when all villages in India were electrified, to the workers and labourers of the country on this Labour day: Narendra modi at Chamarajanagar rally.
12.17pm: Why is it that 4 crore Indians don't have electricity even after 70 years of India attaining independence: PM Modi.
Our government will provide free electricity to all these 4 crore houses: PM Modi.
12.16pm: It would have been honourable if the Congress party had said two words about labourers and working-class people who brought electricity to the last village in India. But the Congress is only of name and not work: PM Modi.
12.15pm: April will be a red-letter day in nation's history when electricity reached the last village. I honour all working class people for this: PM Modi.
12.13pm: BS Yeddyurappa is the hope of the people of Karnataka and he is going to be the next chief minister of the state, says PM Modi.
12.11pm: There is not a BJP wave in Karnataka but it is a BJP storm, says PM Modi.
12.05pm: PM Narendra Modi begins his address at Chamarajanagar.
11:53am: Congress will not win more than 50 seats. There is a wave of BJP in the state, we will win more than 150 seats, JDS will not win more than 25 seats, says Yeddyurappa
11.40am: BS Yeddyurappa is addressing the rally ahead of Narendra Modi's address in Chamarajanagar.
11.10am: PM Modi has arrived at the rally venue in Santhemarahalli and will shortly address, launching the election campaign for his party. The Prime Minister is being accompanied by state BJP President and CM candidate BS Yeddyurappa.
9.25am: Modi will address a election rally at Santhemarahalli in Chamarajanagar, deep in southern Karnataka, on Tuesday around 11 am.
9am: Starting Tuesday, Prime Minister Narendra Modi will address 15 rallies in five days across Karnataka ahead of assembly elections on May 12
Close Story
Personalise your news feed. Follow trending topics