324 Indians evacuated from Wuhan to Delhi moved to 2 quarantine facilities
The first of the two flights will evacuate Indian citizens stranded in the central China city that is in the midst of the coronavirus outbreak.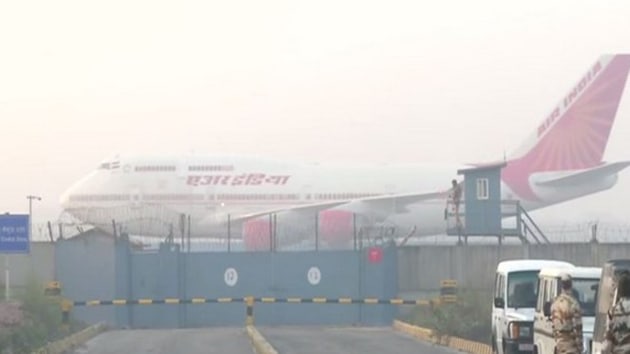 Updated on Sep 05, 2020 11:59 PM IST
Hindustan Times, New Delhi |
HT Correspondent
The first batch of 324 Indians who arrived in Air India special flight from Wuhan (China) in Delhi Saturday morning are being taken to Indo-Tibetan Border Police Chhawla camp in Delhi and an army camp at Manesar in Haryana for medical observation, ANI reported.
Two hundred and eleven of the evacuees are students. Most of the evacuees are from Andhra Pradesh and Kerala and 22 are from Maharashtra.
The Air India Boeing 747 had reached Wuhan on Friday evening with a team of doctors to bring back the Indians who had been stranded in a city in Hubei province, which is now completely locked down over the outbreak.
Also Watch | Air India's jet carrying Indians from coronavirus-hit Wuhan lands in Delhi
Chinese health officials said on Saturday at least 259 people have died and nearly are 11,800 infected with the novel coronavirus and that the hardest-hit central Chinese province of Hubei reported 45 new fatalities until Friday midnight.
The World Health Organization (WHO) on Friday declared the outbreak as an international public health emergency.
India thanked China for facilitating the special flight to evacuate its citizens from Wuhan.
"An Air India flight carrying 324 Indian nationals from the coronavirus hit Hubei Province of China took off from Wuhan in the early hours of Feb 1. Majority of the passengers were Indian students. We sincerely thank the Chinese government for facilitating this flight," the Indian embassy tweeted.
Two Indians were prevented from boarding the special Air India flight from Wuhan by the Chinese immigration authorities because both were running high temperatures. The barred passengers included a man and a woman and they are likely to be quarantined at a facility in Wuhan and checked for coronavirus symptoms.
Screening, isolation
The government had set up a joint team of Airport Health Authority (AHO) and Armed Forces Medical Services (AFMS) for screening the evacuees at the airport. Those suspected of infection will be shifted to an isolation ward at Base Hospital in Delhi Cantonment (BHDC).
The government has also set up two facilities in Delhi and neighbouring Haryana to quarantine the evacuees.
The Indian Army has set up a facility in Manesar near Delhi to screen evacuees from Wuhan. And, the other is a 600-bed hospital in west Delhi identified by the Indo-Tibetan Border Police (ITBP) as an isolation area.
"The Indian Army has acted swiftly and created a facility near Manesar where the students can be monitored for a duration of two weeks by a qualified team of doctors and staff members, to watch for any signs of infection," the force said in a statement.
The evacuees will be classified into three groups of "suspect case" showing any signs of fever, cough, or respiratory distress, "close contact and non-contact case" and will be treated accordingly.
A close contact person, who is without symptoms but may have visited a seafood, animal market or a health facility or come into contact with a Chinese with symptoms in the last 14 days will be "escorted in an earmarked vehicle directly to the quarantine facility".
A non-contact case, who is without any symptom or contact or "who does not fit into either (a) or (b) will also be clubbed along with the close contact category and sent to the quarantine facility."
"After 14 days, persons with no symptoms will be allowed to go home with their detailed documentation sent to the District/ State surveillance units for further surveillance. Those found infected will be shifted to BHDC's isolation ward for further medical exams and recovery," the army said.
"Samples for viral confirmation will be sent to NCDC, Delhi and patients will be discharged only after clinical recovery and two successive negative samples tested for n-COV," it said.
The previously unknown virus—which is why it is called the novel coronavirus—is believed to have emerged in December at a seafood market, which also traded in wild animals in the provincial capital of Wuhan, undergoing an unprecedented lockdown to contain the spread.
The epidemic has spread all across over 20 countries as the Chinese travelled for the Lunar New Year holiday that started last week. It has since ballooned into a global health emergency.
Topics
Close Story