Supreme Court scraps adultery law, says it 'treats woman as chattel'
Sep 27, 2018 11:20 PM IST
Five judges of the Supreme Court will decide on Thursday if adultery should continue to be an offence under the country's 19th century criminal law
The Supreme Court has scrapped adultery as a criminal offence, ruling that the 19-century law that "treats a husband as the master', is unconstitutional. "The adultery law is arbitrary and it offends the dignity of a woman," Chief Justice of India Dipak Misra, who led the five-judge bench said.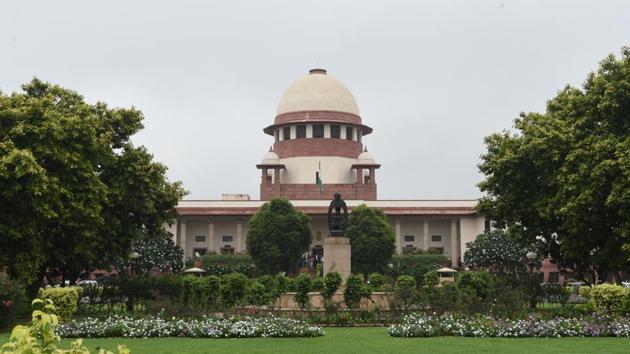 Adultery is the second offence to be decriminalised by the top court in 20 days. Early this month, the court had decriminalised gay sex between consenting adults.
The penal code's section 497 makes it an offence if a man has sex with the wife of another married man without his "connivance" or "consent". But only men, and not women, can be prosecuted under the adultery law.
Adultery is the only provision in the penal code that treats men and women differently, for one, because it treats a married woman as the 'property' of their husband.
The judges said the section gives the husband licence "to use the woman as a chattel".
"This is archaic law long outlived its purpose and does not square with constitutional morality," the bench said in separate, but concurring verdict.
"When such law falls foul of constitutional guarantee, then the court must strike it down even if the government does not act," the court ruled.
The top court had, last year, agreed to test the constitutional validity of this provision on a petition by an Italy-based non-resident Indian, Joseph Shine. He questioned the gender bias in the colonial-era law that he argued, flies in the face of the constitutional right to equality.
In their oral observations during court proceedings, the judges had indicated that they did not find any justification for this gender bias but had underlined that they did not intend to make it gender neutral. Rather, they would test if the provision is constitutionally valid.
Read | What the Supreme Court said in its verdict
At one point, the court also noted that adultery could be a ground for divorce under civil law, not a criminal offence.
It is a suggestion that the NDA government had strongly opposed, arguing that decriminalising adultery would prove to be "detrimental to intrinsic Indian ethos" and the "sanctity of marriage".
Adultery wasn't listed as a crime in the first draft of the colonial-era penal law proposed by Thomas Babington Macaulay-led panel back in 1837 but another commission, a decade later, pushed for its inclusion.
More than a century later, the Fifth Law Commission recommended changes in section 497 in 1971 but it was never implemented.
In 2003, Supreme Court's retired judge V Malimath, who was tasked to recommend reforms in the criminal justice system, told the government that adultery should be made gender-neutral. But the government did not accept the change.