Surgery a success, Uzbek woman sits down after 32 years
Gulnora Rapikhova was five years old when her clothes caught fire from the heating stove at home in Uzbekistan. She spent the next 32 years standing or lying down due to severe burns on her lower back down to her thighs.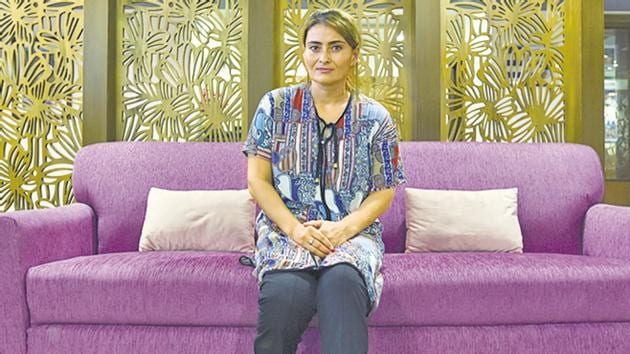 Updated on Jul 06, 2018 08:53 AM IST
New Delhi, Hindustan Times |
Sanchita Sharna
Gulnora Rapikhova, 37, sat down after 32 years on Wednesday after surgeons at Delhi's Indraprastha Apollo Hospitals declared the surgery to heal her chronic burn wounds had been successful.
Sitting down, she broke into a smile, saying, "I'm happy but I'm afraid. I'm very afraid".
Rapikhova was five years old when her clothes caught fire from the heating stove at home in Sirdarya, a small town in the outskirts of Tashkent in Uzbekistan. She was home alone and by the time she rushed out crying for her mother, she had severe burns on her lower back down to her thighs.
She was hospitalised for 18 months, first at a local hospital for six months and then in Tashkent for one year. Over the years, she underwent five major surgeries, but her wounds didn't heal.
Rapikhova spent the next 32 years standing or lying down. "It was very difficult, but I had to live. I went to school at the age of eight and got all my learning in class while standing or lying down on my side," Rapikhova said.
She developed her own system to deal with the pain, taping a clean towel over her chronic wounds under her clothes every day. "When it got too painful, I took painkillers. That was all I could do," said
Her life changed six months ago when she decided to visit a free medical camp organised by doctors from Apollo in Sirdarya. "I got a call from the local polyclinic saying Indian doctors were visiting and I went simply because I had nothing to lose," she said.
"She came to the clinic with an interpreter and when I asked her to sit down, she didn't. I said there was no need to be formal, and the interpreter said, she says she cannot sit down. She has not sat down in 32 years," said Dr Shahin Nooreyezdan, consultant plastic and cosmetic surgery, Indraprastha Apollo Hospitals.
"I almost fell off my chair with surprise. I examined her and found chronic raw and infected wounds down her back, buttocks and thighs. I had never seen such severe tissue wounds. I was stunned that someone had survived with such wounds for more than three decades," he said.
Rapikhova needed surgery and since she or her parents, who own a small shop, did not have the money, a philanthropist in Tashkent funded her trip to India. She took her first flight standing and lying down on the two-hour flight from Tashkent to New Delhi on May 26.
The surgery was done on May 31. "It was not a complicated surgery. We just took skin grafts from her lower legs to cover her wounds in a surgery that took a little more than two hours," said Dr Nooreyezdan. "Since there is a risk of chronic wounds turning into cancer (Marjolin ulcer) after 10 to 15 years, we did several biopsies to rule out cancer," he said.
She is well on her way to recovery, says Dr Nooreyezdan. "The healing has begun and she will have to wear pressure garments for six months and we'll do a follow up in September," he said.
India was not unfamiliar to Rapikhova, who grew up on Bollywood films and music and is a Kajol and Shah Rukh Khan fan. "It's a lot like in the films, people are nice, but I want to go home now," she said.
This week, the doctors declared her grafts had healed and she could sit down. Rapikhova's face lit up in a smile. "I told my parents I will be able to sit and they cried. They will not believe it till they see it," she said.
Close Story