Modi spoke of the importance of India's relations with Kazakhstan, Kyrgyzstan, Tajikistan, Turkmenistan and Uzbekistan when the foreign ministers of the five countries jointly met him.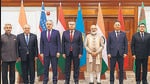 There was a "significant convergence" in assessments by India and Tajikistan, and the Tajik side highlighted the gravity of the situation in Afghanistan.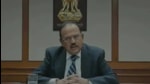 Tashkent Uzbekistan will push ahead with a joint plan with India and Iran to promote connectivity through the Chabahar port, as part of the country's efforts to improve and diversify access to sea routes for trade, senior Uzbek officials have said

Voting across the landlocked country of 34 million people began at 8:00 am local time (0300 GMT) and will last until 8:00 pm (1500 GMT).

AFP | | Posted by Shubhangi Gupta
, Hindustan Times, New Delhi
"The military plane illegally crossed the border of Uzbekistan. An investigation is underway," government spokesperson Bakhrom Zulfikarov said.

Written by Srivatsan K C | Edited by Avik Roy
, Hindustan Times, New Delhi