Sushma Swaraj asks Indians, Chinese to learn each other's languages to boost ties
Hindustan Times, Beijing |
Sutirtho Patranobis
Apr 23, 2018 08:24 PM IST
The external affairs minister has invited 25 Hindi students from China to visit India in the coming months.
External affairs minister Sushma Swaraj on Monday exhorted residents of both India and China to learn each other's languages, so as to enhance communication and improve bilateral relations through increased people-to-people ties.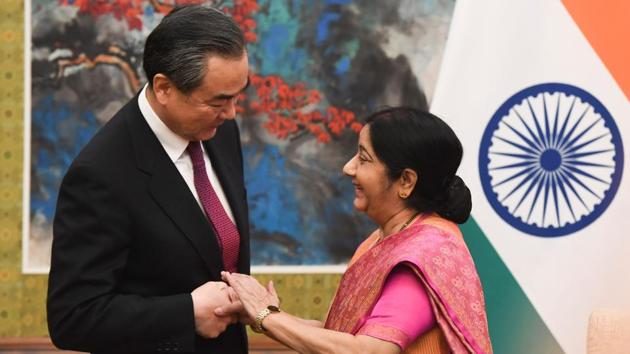 The minister was speaking at a programme titled 'Contribution of Hindi in India-China Friendship' at a plush hotel in Beijing. The event, chaired by Swaraj, was attended by dozens of Chinese students and Hindi scholars.
"I want to say that the way India-China relations are strengthening, trade is increasing and we are working together on international forums, it has become increasingly important that you learn Hindi and we learn Chinese. This way, Indians won't face any difficulty when they visit China, and the Chinese won't require an interpreter when they visit India," she said.
Later, a group of Chinese students recited Hindi poems and spoke about India-China bonhomie in a display of lingual expertise that would have impressed even an expert orator like Prime Minister Narendra Modi.
Besides boosting diplomatic and strategic ties, Modi and Chinese President Xi Jinping are likely to discuss ways to strengthen interpersonal relationships between the people of the two countries when they meet in Wuhan later this week. Increasing cultural exchanges could be one way of achieving it.
"China and India should continue promoting cultural and people-to-people exchanges, and strive to consolidate the social basis of their bilateral relations. It is imperative to promote exchanges and interaction between the two societies, so our competition-dominated mindset is changed into a cooperation-driven one," Rong Ying, south Asia scholar and vice-president of the China Institute of International Studies, wrote recently.
Swaraj was possibly thinking along the same lines when she invited 25 Hindi students from China to visit India in the coming months. She made the offer after a Chinese student said it was her dream to visit the neighbouring country.
"I want to say that your dream will come true right here, right now. I am telling our ambassador to send a delegation of 25 Hindi students from China on an India visit," she said.
The minister cited 'Dangal', 'Secret Superstar' and 'Hindi Medium' to stress that Hindi films are gaining popularity in China, but said an understanding of the language instead of overt reliance on subtitles could improve the movie-watching experience.
Over a dozen varsities in China – including the Beijing's prestigious Peking University – offer Hindi as a language course. Many local scholars have also translated Chinese classical works into Indian languages.