Telangana: Toddler stuck in borewell for 60 hours dies despite massive rescue op
Updated on Jun 26, 2017 12:45 AM IST
The 18-month girl accidentally fell in the borewell on Thursday while playing with her elder sister.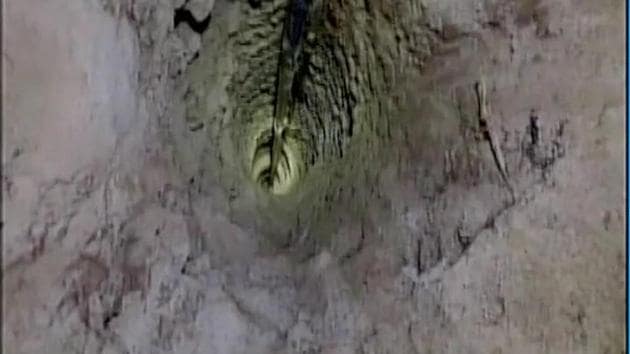 A 60-hour long rescue operation to pull a toddler out of borewell at Ikkareddygudem village in Telangana's Rangareddy district about 70 km from Hyderabad, proved futile with 18-month old Veena alias Chinnari dying during the operation.
Veena had accidentally fallen into the open borewell on Thursday and had got stuck around a depth of 40 feet. The well is said to 450 feet deep.
The decomposed parts of Veena's body were flushed out from the borewell by rescuers after a massive operation that went on for over 60 hours. District Collector M Raghunandan Rao and transport minister P Mahender Reddy officially declared the death of the girl at around 6 am on Sunday.
"We suspect the girl died on the second day itself. However, we made our best efforts to rescue the girl using all the technologies available with us. Unfortunately, we could not succeed," the minister said.
Veena's parents -- Yadaiah and Renuka, both migrant workers from Gorepalli village of Vikarabad district, wept inconsolably as the authorities told them that the girl was no more.
Veena fell into the open borewell when she was playing in the fields along with her elder sister Akshita, when their parents were at work at an adjacent farmhouse in the village.
Rescue teams from NDRF and state agencies like Singareni Collieries made hectic efforts to bring out Veena alive, despite heavy rains in the area. Experts from the ONGC were also summoned from neighbouring Andhra Pradesh to dig a parallel well to reach the girl. During the course of the operations it was found that the girl slipped further deep into the well.
High-tech sensitive cameras were dropped into the bore well up to 240 ft to locate the girl but she could not be traced. Oxygen was supplied continuously into the borewell, and a team of doctors was on stand-by.
By Saturday evening, the authorities concluded that Veena might have died much earlier. The rescuers then started using air pressure to bring the dead baby up but they got only some remnants of her body and her frock.
The body parts were sent to Chevella government hospital for post-mortem and later handed over to her parents for burial in their native village.
The Cyberabad police have registered a criminal case against landlord Malla Reddy in whose fields the bore well was located under Indian Penal Code section 336 (endangering the life of someone).
Close Story
Personalise your news feed. Follow trending topics