Grenade attack in Srinagar market near Amira Kadal kills 1, injures 24
Updated on Mar 06, 2022 08:30 PM IST
Srinagar grenade attack: Central Kashmir deputy inspector generall Sujit Kumar said the police will track down the culprits behind the grenade attack near Amira Kadal on Hari Singh High Street.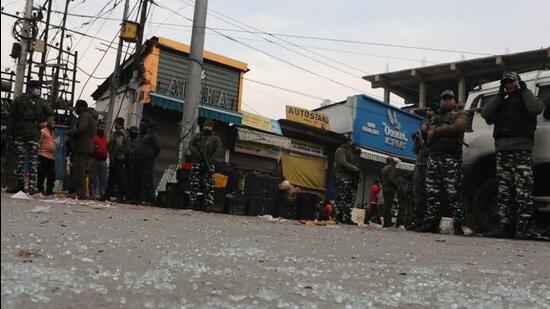 SRINAGAR: A 70-year-old man person died and 24 people were injured in a grenade attack by suspected terrorists in a busy market area of Srinagar on Sunday. A policeman is among the injured. A girl, who sustained injuries in the attack, is critical, people familiar with the matter said.
Senior superintendent of police, Srinagar, Rakesh Balawal, said the grenade was thrown in the crowded street market near Amira Kadal on Sunday.
"In this terror act, one old man from Nowhatta (in the old city) has succumbed to injuries while one girl is critical. In this attack, 24 other persons including 23 civilians and a cop have received splinter injuries and are out of danger," the Srinagar Police said in a tweet.
Balawal said the Nowhatta man succumbed to his injuries at the hospital.
Deputy inspector general of Police, central Kashmir, Sujit Kumar said the police will track down the culprits soon.
"We are checking CCTV footage, (inputs from nearby) command vehicles and other witnesses to trace them (the attackers)," he said, acknowledging that the crowded areas were being constantly targeted by terrorists.
"Certainly, this is becoming a trend. We have got vital clues and we will trace them soon," he said.
"Security personnel were deployed here and there was no lapse as our policeman was also injured in the attack," he said.
The Srinagar police asked people to be vigilant and report any suspicious activity.
The Central Reserve Police Force (CRPF) said the attack was aimed at security forces and police personnel who were stationed for duty in the Amira Kadal area of the capital.
Kanwaljeet Singh, medical superintendent of the nearby Shri Maharaja Hari Singh hospital where the civilians were rushed by passers-by, said the hospital received 21 persons with injuries. "One among the injured is critical. We don't have the identities of all the injured yet, "he said.
The policeman was injured in his foot and was discharged after treatment.
Kishore Prasad, deputy inspector general of the Central Reserve Police Force (CRPF), said the attack took place at Hari Singh High Street where a team of security forces are stationed, adding no CRPF jawan was injured in the incident.
The attack provoked widespread condemnation from Kashmir's politicians.
National Conference vice president Omar Abdullah said in a tweet: "I condemn this deplorable attack in the strongest possible terms. May the deceased find place in Jannat & may the injured make a complete and speedy recovery."
People's Democratic Party president Mehbooba Mufti termed it a dastardly attack. "People of J&K have been paying with their lives & sadly neither India nor Pakistan are doing anything to end the conflict & stop this bloodshed. My prayers are with the bereaved families & loved ones," she said.
Srinagar mayor Junaid Azim Mattu wrote on Twitter, "Strongly condemn the grenade attack at Hari Singh High Street and my prayers for those injured in this barbaric, senseless terror attack."
Personalise your news feed. Follow trending topics