To keep India united, celebrate its diversity, says Prez Mukherjee at Gandhi function
Apr 18, 2017 10:38 AM IST
The President felicitated 15 freedom fighters at the Akhil Bharatiya Swatantrata Senani Samman Samaroh, organised in Patna as part of the centenary year celebrations of Gandhi's 'Champaran Satyagrah
PATNA: Clearly worried about growing incidence of intolerance and conflict across the country, President Pranab Mukherjee, here on Monday, sent out a terse message.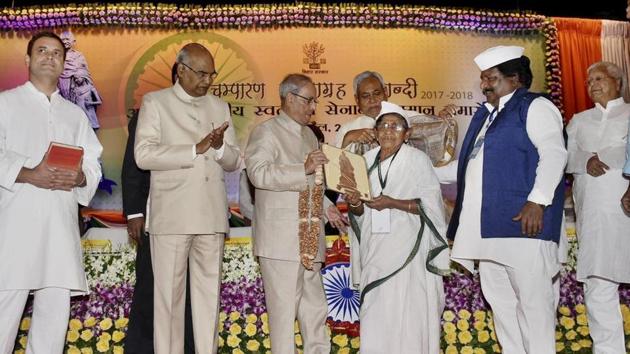 "To keep India united, we must celebrate its diversity", the 81-year-old head of the Indian state said during his address at a function organised by the Bihar government to honour freedom fighters from across the country.
"We have over 200 languages spoken in the country, many religions practised in it and people of various racial categories living in it, under one constitution. As such, the Indian identity and the feeling — I am Indian — ought to be paramount," Mukherjee said.
As it was during the freedom movement, India was again faced with communalism and sectarianism, he observed.
The President felicitated 15 freedom fighters at the function, the Akhil Bharatiya Swatantrata Senani Samman Samaroh, organised as part of the centenary year celebrations of Gandhi's 'Champaran Satyagrah'.
The event was meant to commemorate a very significant happening during India's freedom movement — Gandhi's visit to the Champaran region of north Bihar in 1917, to lead a protest by local farmers against the exploitative ways of the British indigo planters.
Mukherjee acknowledged the Champaran Satyagrah served to establish 'passive resistance' as Gandhi's main canon of protest against the British imperial rulers. "Champaran became the laboratory of India's freedom struggle. It turned MK Gandhi into Mahatma Gandhi," he said.
Yet, controversy marred the event on Monday as Union home minister Rajnath Singh, who had earlier consented to attend it, did not turn up. BJP's former state president Mangal Pandey said he had learnt from Singh's office he decided to stay away as the event had been 'politicised'.
In a tweet, BJP leader Sushil Modi made it clear his party was aggrieved that RJD chief Lalu Prasad, convicted in a case, had been invited to share dais with the President. He also objected to the invitation given to Congress vice-president Rahul Gandhi.
Bihar chief minister Nitish Kumar, clearly disappointed with Rajnath Singh's decision not to attend the function after having consented to do so, insisted it was a state function which had nothing to do with politics.
"I had invited all party presidents. If some decided not to attend it was their decision. I won't hold that against them," Kumar said.
The chief minister said in the prevailing atmosphere of intolerance and confrontation, Gandhiji's thought and vision showed the way forward. The state government was making efforts to take Gandhian principles to all schools and homes in Bihar.
Kumar said a collection of 50 Gandhi stories was being compiled for school children and declared that all sites associated with the Gandhi's stint, including his basic schools, would be 'rejuvenated'.
Rahul Gandhi said Mahatma Gandhi took three bullets (when he was assassinated in 1948) because he was a strong votary of uniting people instead of dividing them. He said it was not necessary for 'sachhai' (truth) to be with people who had 'satta' (office).
RJD chief Lalu Prasad brought politics directly into the proceedings by saying that Bihar's ruling 'grand alliance' — comprising the RJD, JD (U) and Congress, had been formed to "save India of Gandhi's dreams".
Prasad said the issue of triple talaq had been raised to divert public attention from real issues facing the country. "I have information a move is afoot to change the constitution and to scrap job reservations," he claimed.
Amid suggestions of a growing rift between Bihar ruling alliance partners, the RJD and JD (U), the RJD chief also gave his 'ashirwad' (blessings) to CM Kumar, to carry on and take Bihar forward.
Bihar governor Ram Nath Kovind said it was Champaran that introduced Gandhi to India, as a non-pareil leader he was. He also presented to the President a souvenir on Champaran satyagrah, released at the function.
Deputy CM Tejashwi Prasad Yadav, JD (U) state president Basistha Narayan Singh and CPI state secretary Satya Narayan Singh, were among those who shared the dais with the President. But no leader of the NDA, the opposition block in Bihar, was present.
All India freedom fighters' association secretary Satyanand Yaji proposed a vote of thanks.
STRAP
CHAMPARAN SATYAGRAH CENTENARY President Pranab Mukherjee felicitates freedom fighters at the Akhil Bharatiya Swatantrata Senani Samman Samaroh function organised as part of celebrations