To reduce pollution, Supreme Court sets 2-hour window for crackers this Diwali
Oct 24, 2018 12:08 AM IST
The Supreme Court made only the sale of "green and improved" fireworks mandatory at least in the national capital region (NCR) centred on New Delhi.
Diwali celebrants nationwide will get two hours between 8pm and 10pm to burst crackers during the festival in November, the Supreme Court said on Tuesday, and made only the sale of "green and improved" fireworks mandatory at least in the national capital region (NCR) centred on New Delhi, in a ruling that could significantly reduce air pollution that peaks in the festive season but could dent the business of cracker manufacturers and distributors.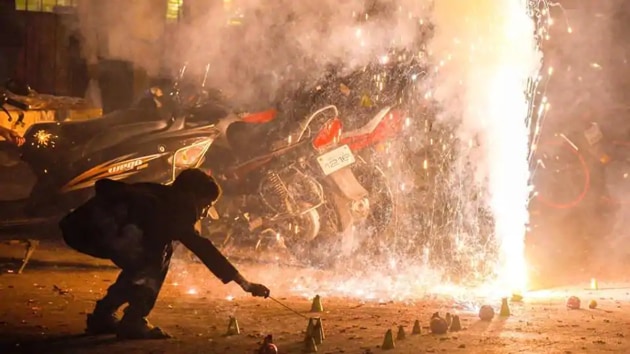 Justice AK Sikri and justice Ashok Bhushan also imposed stringent restrictions on the chemical materials that are used in firecrackers, hearing a 2015 plea by three toddlers filed through their parents who sought a complete ban on the manufacture, sale and bursting of fireworks on account of the health risks they pose to citizens.
Stay tuned with breaking news on HT Channel on Facebook.
Join Now
The court order means firecrackers that will emit fewer toxic pollutants will be manufactured and sold across India in the future although it wasn't clear if the ruling on the sale of green fireworks will extend beyond the national capital and surrounding cities this coming Diwali, which is on November 7. Last year, the top court ruled against the sale of firecrackers in NCR, which includes Gurugram and Faridabad in Haryana, and Noida and Ghaziabad in Uttar Pradesh.
"We on behalf of three toddlers who filed this petition, welcome this judgment. There is nothing called green firecrackers (as of now)... Until they (the government) come up with green firecrackers, this judgment is as good as a ban on polluting firecrackers. It's a small but significant step in our fight against air pollution, " said Gopal Shankarnarayan, a lawyer for the petitioners.
In another significant step, the apex court encouraged the Centre and state governments in the NCR to consider permitting community fireworks displays wherever possible. A venue, such as an open field, would be identified by the authorities and the exercise should be completed within a week beginning on Tuesday, the court said. "The areas designated now for the purpose of Diwali shall be valid for community fireworks on other occasions/festivals as well," it ruled.
The two judges said other festivals, and even weddings, will have to stick to the 8pm-10pm window. On Christmas Eve and New Year's Eve, the window will open at 11:55pm and close at 12:30am across the country.
The police will have to ensure that fireworks are burst in the allotted slot and they can take action against people bursting crackers beyond the designated time. In case of failures, the station house officer (SHO) of the police station in a particular area will be held personally liable for violations that will be treated as contempt of court.
The two judges also said manufacturers will have to stick to permissible noise levels as they banned the sale of firecrackers online through e-commerce portals, which could face contempt of court charges if they failed to obey the directive.
They fixed December 11 for further arguments. Manufacturers in the country's fireworks' production hub in Tamil Nadu's Sivakasi said they were likely to file a review petition challenging the ban on using certain chemicals.
The court also examined the interplay between right to environmental protection under Article 21 and right to profess one's religion freely under Article 25. "We feel that Article 25 is subject to Article 21 and if a particular religious practice is threatening the health and lives of people, such practice is not entitled to protection under Article 25. In any case, balancing can be done here as well by allowing the practice subject to those conditions which ensure nil or negligible effect on health," the bench said.
The proposal to allow the sale of only green and improved crackers earlier came from the Centre, which was responding to the petition in court.
"We had recommended restrictions on the use of barium, aluminium and iron because these three compounds were dominant in air quality monitoring after Diwali last year. Their health effects are also serious. The SC has accepted our recommendations," said Prashant Gargava, member-secretary of the Central Pollution Control Board (CPCB).
Petroleum and Explosives Safety Organisation (PESO), the government body authorised to monitor explosives, will ensure that fireworks with permitted chemical content are produced, sold, purchased and used. It will have to check for banned elements such as lithium, arsenic, antimony, lead, mercury and barium. The court asked PSEO to review the composition of fireworks and submit a report in two weeks. PESO has not yet not identified which are the less polluting crackers, said JN Mishra, its deputy controller .
In southern India, where crackers are burst on Diwali in the morning hours, the top court judgment prescribing a two-hour time limit at night left many unhappy.
K Amase Gowda, a resident of Karnataka's Chamrajnagar district, said, "What is the harm in celebrating a once-in-a-year festival? The courts should stop interfering in everything. In a diverse country like India.., how can the court decide everything?"
But not everyone complained. Shyamala Pai, a resident of Bangalore, said, "...most of our cities are polluted. Why add more to it in the name of festival? Also animals suffer because of crackers."
D Saha, an environmental scientist who previously worked with CPCB, welcomed the judgment and said the authorities would now have to ensure the norms were adhered to more strictly, especially at the manufacturing level.
"As a society, we have been using firecrackers to celebrate occasions, from festivals to landmark days and weddings to grand events, but there is a much bigger cost involved, the damage the bursting causes to the environment and, of course, the health hazards. And, so we must behave more responsibly," he told news agency Press Trust of India.
Environmentalist Vimlendu Jha said there was no such thing as an environmentally safe firework, according to news agency Reuters. Some also wondered about how the order can be enforced. "Your one decision to allow sale and use of firecrackers in current times, while half of our country turns into a gas chamber, will kill toddlers, children and elderly," Jha said in a tweet.