EC cancels suspension of IAS officer who checked PM chopper
Updated on Apr 25, 2019 11:04 PM IST
The IAS officer was suspended on April 17 for checking PM Modi's helicopter in Odisha in "violation" of norms for dealing with SPG protectees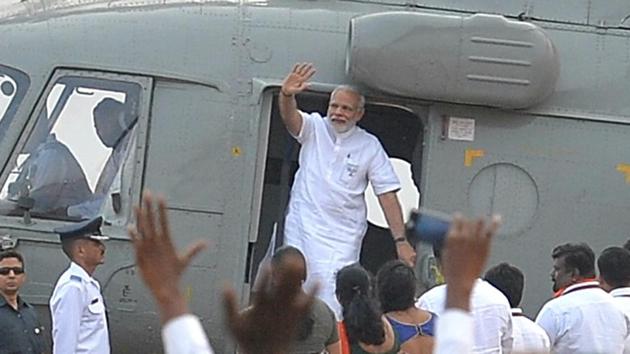 Bengaluru |
Amrita Madhukalya
The Election Commission on Thursday cancelled suspension of IAS officer Mohammed Mohsin, for checking PM Narendra Modi's helicopter in Odisha but has barred him from election duty in future. An Election Commission official said the decision was taken on the basis of the findings of a senior official sent to Odisha.
The commission has, however, asked the Karnataka government to take disciplinary action against the 1996-batch IAS officer.
The development comes hours after the Central Administrative Tribunal in Bengaluru stayed the Election Commission's suspension order. According to news agency PTI, the tribunal held that while reasonable assurances of protection and security must be made available to Special Protection Group protectees, it cannot be said "they are eligible for anything and everything".
The Karnataka officer was in Odisha this month as a general observer when he ordered officials to check the PM's chopper in Sambalpur on April 16.
The Election Commission suspended Mohsin over what it said were actions contrary to its instructions concerning those protected by the SPG.
The commission said it issued an order in 2014 that said those guarded by SPG were excluded from checking during polls; the order was not available on the commission's website.
"As cited in the order...instruction dated 10.4.14 states that SPG protectees are excluded from checking," an election commission spokesperson had said.
A March 2019 order that was supposed to be in continuation of the 2014 order circulated by the commission did not make any mention of the specific rule for SPG protectees.
The tribunal took note of the argument by the officer's lawyer who recalled that there had been a news report about heavy packages unloaded from prime minister's cavalcade being taken away in other vehicle.
In its order, the CAT noted that there was a circular on SPG protectees exempting them from certain examinations on certain grounds. "We will not go into the SPG protectees guidelines as per the bluebook right now but the rule of law must prevail," said the tribunal, according to PTI.