Udaipur tailor's murder an 'act of terror', says Karnataka CM Bommai
Updated on Jun 30, 2022 06:24 PM IST
Basavaraj Bommai on Thursday said the murder of a Hindu tailor by two Muslim men was an 'act of terror' and alleged an international conspiracy was behind the incident.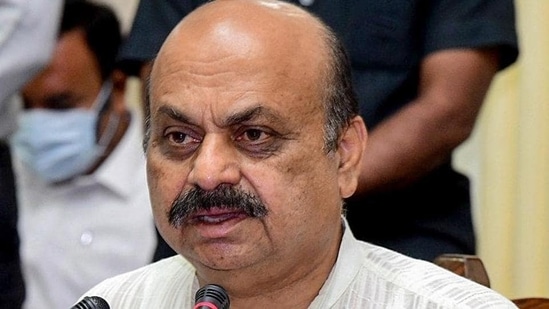 Yamini C S | Edited by Chandrashekar Srinivasan
Karnataka chief minister Basavaraj Bommai on Thursday referred to the Udaipur murder case as 'an act of terror' and alleged a bigger international conspiracy behind the incident. The CM demanded the case be investigated thoroughly, news agency PTI reported.
"All those behind the incident, including international organisations, should be brought to justice and the guilty must be hanged," he said. "The Udaipur incident is a heinous and inhuman act. It is an act of terror. There is a big international conspiracy behind it and it needs to be investigated and those responsible should be hanged," Bommai said.
He pushed for the Rajasthan government to ensure a strict investigation to uncover if international organisations were, in fact, behind the incident and demanded stringent punishment against them if this were proved.
The Karnataka CM spoke to reporters on this after the GST council meeting in Chandigarh.
On Tuesday, Kanhaiya Lal, a Hindu tailor, was murdered brutally by two Muslim men - Riaz Akhtari and Ghouse Mohammad - at his shop. The killing was filmed and the killers boasted on the clip that was circulated widely. They even threatened prime minister Narendra Modi.
The accused have been arrested. Kanhaiya Lal was killed allegedly over a social media post he made in support of ex-BJP spokesperson Nupur Sharma and the Prophet Mohammed row.
Rajasthan chief minister Ashok Gehlot met Kanhaiya's family members today, after which the son told reporters: "I have spoken with the chief minister. He has provided us with financial help too. He has also assured me of a government job. He is cooperating with us."
Kanhaiya Lal's last rites were performed Wednesday morning in the presence of a large crowd - watched over by an alert police force - demanding death sentences for the guilty.
Meanwhile, there was tension in Udaipur this morning after thousands, waving saffron flags, took out a protest march. Reports indicated some stone throwing but no further violence.
(With PTI Inputs)
Close Story
U.P. cop complains about food quality, inquiry ordered

An inquiry has been ordered into allegations levelled by a police constable in Firozabad about the quality of food being served in the police mess. In a video that has gone viral on social media, police constable Manoj Kumar lamented the inferior food quality which was being served at the mess in the Reserve Police Lines. Kumar, while sitting on the divider of the highway in Firozabad, blamed police officials for neglect.

Yogi, Rajnath check on Raju Srivastava's health

Uttar Pradesh chief minister Yogi Adityanath and the Union defence minister Rajnath Singh spoke to the relatives of comedian Raju Srivastava, who was admitted to Delhi's All India Institute of Medical Sciences after suffering a heart attack, and enquired about Srivastava's health, on Thursday. Srivastava is also the chairman of Uttar Pradesh Film Development Council. Samajwadi Party president Akhilesh Yadav also wished Srivastava a speedy recovery.

Over 30 people feared dead as boat capsizes in Yamuna, in Banda

Over 30 people were feared drowned when a boat carrying 45 people, including 25 women and children, capsized in the Yamuna, in Banda district, on Thursday. Locals said most people were going to celebrate Raksha Bandhan with their siblings. SHO Marka Hemraj said that four people are confirmed dead while 13 managed to swim to safety, while 28 people are still missing. He said around 45 people were on the boat.

World Elephant Day on Friday: A walk with the mighty ones leaves actor awed

Indian actor Jennifer Winget is at the Elephant Conservation & Care Centre, run by wildlife conservation NGO, Wildlife SOS, in Mathura, and will celebrate 'World Elephant Day' there, on Friday. She reached the centre on Thursday. Every year, August 12 is celebrated as World Elephant Day to raise awareness about the world's declining elephant population. Breaking a sweat, Winget helped in creating and distributing enrichments that keep elephants physically and mentally stimulated.

SSB busts prostitution racket, rescues 17 women

Mumbai The Social Service Branch of the Mumbai police raided four flats in Navi Mumbai and rescued 17 women who were brought to the city from West Bengal, Uttar Pradesh and Madhya Pradesh and forced into prostitution. The SSB has arrested nine people of the syndicate and are looking for two main culprits who were running the prostitution racket for several years.
Personalise your news feed. Follow trending topics