Ukraine crisis impact: Surat diamond industry may lose shine
Updated on Mar 07, 2022 04:50 AM IST
The diamond industry of Surat, where about 85% of the world's roughs are cut and polished, is trying to hold on to its sparkle as the war in Ukraine could dampen the chances of record sales this year.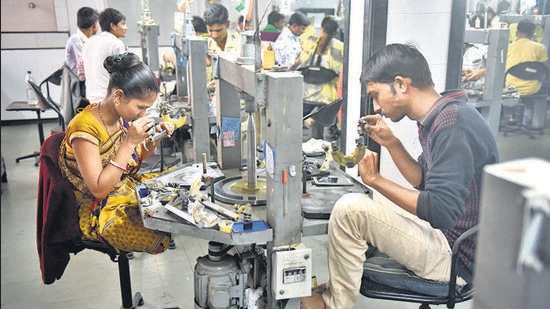 The diamond industry of Surat, where about 85% of the world's roughs are cut and polished, is trying to hold on to its sparkle as the war in Ukraine could dampen the chances of record sales this year.
Although an assurance has been given by Alrosa, the Russian mining giant partially owned by the government, about smooth supply of diamonds to India amid the ongoing conflict between Russia and Ukraine, diamond barons and industry experts in Surat fear global sanctions could take off some of the glitter by impacting the sourcing of rough diamonds.
The European Union, the US, the UK and their allies have excluded Russia from the Swift international payment system that is likely to make trading harder.
"There is growing uncertainty in the diamond industry due to the war. About 40% of our diamonds are supplied from Russia today and the payment issues are of serious concern to us. The impact on the industry could be large if the war does not end soon," said Savjibhai Dholakia, chairman of Surat-based Hari Krishna Exports, one of the top five diamond companies in India. "Today banks in the US and Europe are not allowing us to make payments to Russia. There could be an impact on raw material supply in the coming days."
Recently, the State Bank of India, the country's largest lender, stopped processing transactions of Russian entities that have been sanctioned by the West.
"The overall gross export of cut and polished diamonds from India was $25.47 billion last financial year, and we have already touched $30 billion till February end in 2021-22," said Dinesh Navadiya, regional chairman of Gem and Jewellery Export Promotion Council (GJEPC), a lobby group. "If all goes well, we will touch $35 billion till March end, which will be an all-time high."
In light of the recent geopolitical developments, Navadiya said so far there has been no significant impact on the industry that employs over 8 lakh people. The export of gems and jewellery to Russia and Ukraine is not significant, as it is just about 0.06% of the country's overall exports in the sector, he said. But the sourcing of rough diamonds is another matter.
"About 29% of the roughs come from Russia's Alrosa mines," Navadiya said. "Alrosa has recently given some assurance. We will have to see how the situation unfolds."
Navadiya was referring to a February 28 letter written by Alrosa's deputy chief executive, Evgeny Agureev, to Vallabhbhai Patel, chairman of the Surat Diamond Bourse, where the Russian executive said they are committed to doing everything possible to mitigate the current turbulence.
Daily operations of Alrosa, including its settlements with foreign partners, continue as usual, as there are no restrictions on the company's transactions in dollars, euros or other currencies, Agureev said. It has a diverse range of banking partners, which allows it to operate normally without any delays, he assured.
On the concerns over debt and equity restrictions on Alrosa, Agureev said these do not apply to operations or trading. In 2021-22, Alrosa reported diamond sales of $4.2 billion, the second after De Beers. More than 80% of Alrosa diamonds come through Belgium, the global diamond trading hub, before landing in Surat for processing.
The US is the biggest customer for India's polished diamonds, an industry expert said, and any sanctions on the purchase of diamonds sourced from Russia could hit the Indian diamond industry.
The ongoing war can have a far-reaching impact on the diamond industry from payment to raw material supply that could lead to a shortage of roughs, according to Surat-based diamond firm owner Mathurbhai Savani.
"We are worried that if this war prolongs, there will be a problem. There is a strong concern. We are in a wait and watch position. We have survived plague and Covid-19, and we hope that this too shall pass," said Babu Kathiria, promoter of a diamond firm in Surat and former president of Surat Diamond Association.
No fresh supply from Russia is possible due to payment restrictions, said Anirudha Lidbide, a diamond consultant who has worked in the industry in 15 years, sourcing roughs for diamond companies from African nations.
"There could be a shortage of rough diamonds in the near future, and this will make the purchase of diamonds from other mines outside Russia expensive," Lidbide said. "The prices of diamonds can shoot up. Also, the war could bring down demand for luxury goods and people may invest in gold instead."
Personalise your news feed. Follow trending topics