UP elections: Grand temple to be built in Mathura, says deputy CM Maurya
Preparations are underway for the construction of a grand temple in Mathura on the lines of Ayodhya and Varanasi, Keshav Prasad Maurya said.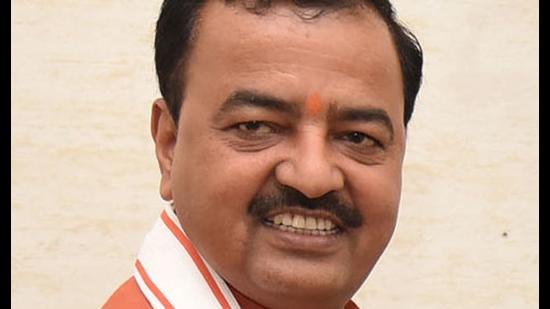 Updated on Dec 02, 2021 05:01 AM IST
Uttar Pradesh deputy chief minister Keshav Prasad Maurya stirred up a fresh row in the poll-bound state on Wednesday after he said that preparations were underway for the construction of a grand temple in Mathura on the lines of Ayodhya and Varanasi.
"Ayodhya aur Kashi bhavya mandir nirman jaari hai, Mathura ki tayyari hai (grand temples are being constructed in Ayodhya and Kashi and Mathura will be next)," Maurya tweeted.
Mathura -- the western UP town believed to be the birthplace of Hindu god Krishna -- has a prominent mosque - the Shahi Idgah - located next to the Krishna janmabhoomi (the site believed to be the god's birthplace). The mosque has been at the centre of a legal battle for years with Hindu groups claiming that the Idgah was built on land where Lord Krishna was born.
The tweet comes days after a right-wing group, Akhil Bharat Hindu Mahasabha, announced plans to install a Krishna idol at the Shahi Idgah after elaborate rituals. The group, however, cancelled the plan on Monday.
Also Read | Denied permission, ABHM calls off Dec 6 'jalabhishek' prog at Eidgah in Mathura
Talking about the announcement coming close on the heels of the anniversary of the Babri Masjid demolition, on December 6, Maurya said: "During the time of the Ayodhya agitation, we would raise the slogan that Ayodhya is ours, now is the turn of Kashi and Mathura. Now, a Kashi Vishwanath corridor has come up in Varanasi and naturally it would be the turn of Mathura next."
"With the blessings of the people we are confident that the ancient glory of our grand heritage would be restored," he added.
Reacting to the tweet, Samajwadi Party chief Akhilesh Yadav told news agency ANI, "BJP has the agenda of robbing the poor and filling the pockets of the rich, they have always worked to benefit the rich class. No rath yatra or new mantra is going to help BJP in the upcoming polls."
Also Read | Mathura: Sec 144 imposed after right-wing outfits' threat
Congress spokesperson Zishan Haider, too, hit out at the BJP. "The game plan is clear. A day before union home minister Amit Shah's visit to west UP, a deliberate attempt has been made to polarise the society on religious lines. BJP is back to its favourite play - Hindu-Muslim politics," he said.
UP BJP leader Navin Srivastava, however, defended Maurya, saying: "There is nothing wrong in what Keshav ji said. We all should be proud of our heritage. Shame on these political parties who first tried to stall the construction of Ram temple and now are back to playing their favourite appeasement politics."
Close Story