UP train double murders: Police track suspect father's phone to Jammu
Hindustan Times, Motihari/Lucknow |
Sagar Suraj and Rohit K Singh
Oct 26, 2017 09:01 PM IST
A woman and her four minor daughters were thrown off the train passing through Uttar Pradesh on Wednesday. The police have tracked the father's phone to Jammu and believe that the family was travelling to the state when the incident took place.
A man suspected to have pushed his wife and four minor daughters off a moving train passing through Uttar Pradesh is also a suspect in the murder of his brother-in-law seven years ago, police said on Thursday.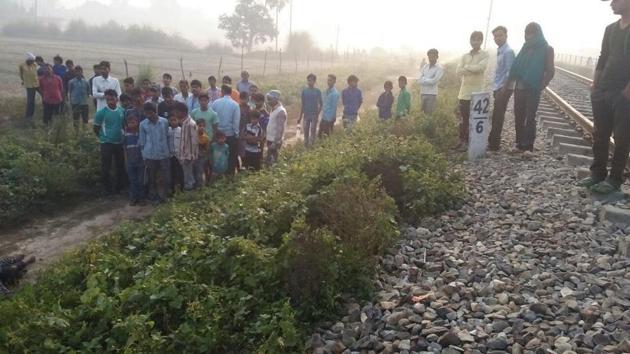 "Police are on the hunt for Iddu Mian, 42, and his phone's location has been tracked to Jammu," said Binod Kumar Singh, inspector general, Government Railway Police (GRP), Lucknow.
Police are also looking for the children's uncle, Iqbal, and his friend, Izhar, who have been booked on charges of murder and attempt to murder in the case.
Iddu's wife, Afreena Khatoon, 36, and one of their daughters, Muniya, 7, died, while three other children survived the fall from Amritsar-Saharsa Express on Monday night.
The two bodies and three survivors were found at different points along the tracks between Lakhimpur Kheri and Sitapur and it took police a while to establish they were from a single family.
After multiple fresh revelations in the case, yet another twist was in store when railway police officials from UP tracked down the family's relatives in Bihar.
Initially, police suspected the family was travelling from Punjab to Bihar and the woman was pushed off first. But the woman's mother told police the family had travelled from Bihar and were headed to Jammu and Kashmir.
Police said this suggested that the mother was the last to be pushed out as the train crossed Maigalganj after crossing Sitapur, about 90 km north of UP capital Lucknow. All the children were pushed out between Mehmoodabad and Ramkot before the train reached Sitapur, police added.
Saumitra Yadav, superintendent of police of Government Railway Police (GRP), Lucknow, said among the surviving sisters, only one was speaking to investigators, who went by her account that the family was returning from Amritsar.
"She suffered multiple fractures in her hand and hip-joint and her mental status is not good. Police had no option but to go by her account," said Yadav.
After tracking down Iddu's mother-in-law, Rabeena Khatoon, at Jhakhra village in West Champaran district and talking to several others, police have the profile of a person with a knack of courting trouble.
Rabeena Khatoon and Iddu's brother-in-law, Ishtekhar Ansari, told the police he worked as a labourer in Jammu and Kashmir and stayed away from Bihar for long periods.
Another police team reached Iddu's village, Sarya Kachchehri, in East Champaran district, 160 km north of Patna.
Guddi Devi, the mukhiya of Sarya panchayat, told police, "He (Iddu) was brash and quarrelsome. He sold off his thatched house and land and shifted his wife and children to his in-laws' house."
Iddu came under pressure to shift his family and returned home after two years this Diwali to take them with him, police said. Investigators also found that Iddu had another wife before Afreena. He had two sons with his first wife. One of the sons died as did his first wife, said police.
Iddu's brother-in-law, Tayab Ansari, was murdered seven years ago, and he was among the suspects but was not arrested in the case, police added.