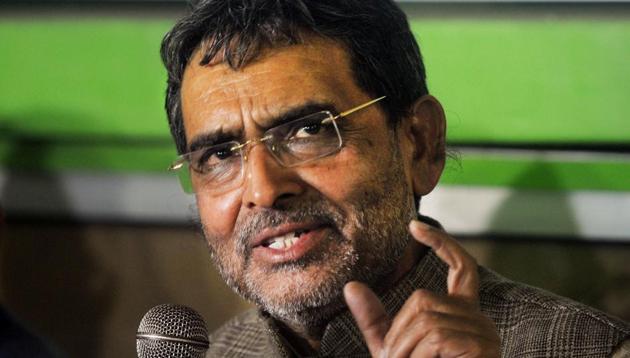 Upendra Kushwaha's exit will dent NDA's poll prospect, say experts
Kushwaha resigned on Monday as the Union minister of state for human resource development as he quit the National Democratic Alliance, which has set a target to win all the Lok Sabha seats from Bihar in the Lok Sabha elections next year.
UPDATED ON DEC 10, 2018 05:02 PM IST
Experts said on Monday the exit of Upendra Kushwaha's Rashtriya Lok Samata Party (RLSP) from the Bharatiya Janata Party-led NDA will be a setback for the ruling alliance, which was banking heavily on the consolidation of the backward class voters in its favour, especially the realignment of Kushwaha, Kurmi and Dhanuk votes.
Leaders of the alliance, however, said Kushwaha did not contribute significantly to make any difference to them.
He also resigned on Monday as the Union minister of state for human resource development as he quit the National Democratic Alliance, which has set a target to win all the Lok Sabha seats from Bihar in the Lok Sabha elections next year.
Bihar sends 40 members of Parliament to the Lok Sabha. In the 2009 general elections, the BJP and Janata Dal(United) had contested together. While the JD(U) had fielded candidates on 25 seats, the BJP had contested 15 seats.
Kushwaha's RLSP had joined the NDA ahead of the 2014 Lok Sabha elections and won three out of three seats it contested. The JD(U) had fought the elections solo that year and won just two seats and the BJP ended up with 22 seats and Ram Vilas Paswan's Lok Janshakti Party six. That equation changed after Kumar's return.
Read: Bihar ally Upendra Kushwaha quits as minister in Modi government
But questions were raised about Kushwaha's appeal among his own community after the RLSP lost 21 out of 23 seats it contested in the 2015 assembly elections. The BJP, which won on 53 assembly seats got 37.48% votes against 40.65% votes of JD(U), which won on 71 seats. The share of RLSP was below 1%.
Kushwaha, despite his limited significance in the NDA and coupled with infighting in his party, had always remained the undisputed leader of the backward Koeris in Bihar, who form 6.4% of Bihar's population and have a significant presence in 25-30 assembly segments.
"Kushwaha's resignation will definitely give the NDA a jolt when it comes to backward class votes. He carried a clean image and his exit will give a message that the NDA does not care for people with a clean image," DM Diwakar, a social scientist associated with AN Sinha Institute for Social Sciences, said.
"Kushwaha's exit is also going to give a definite message that the state government was not hearing his pleas for improvement of education scenario, a sector that has remained neglected for long and earned a bad name for the state," Diwakar said.
Saibal Gupta of the Asian Development Research Institute (ADRI) said Kushwaha's decision to quit will affect the NDA but only marginally.
"He constitutes the troika of the Triveni Sangh -- Yadav, Koeri and Kurmis. In this backdrop, he constitutes a social group which was the bedrock of the NDA," Gupta said.
However, the BJP and the Nitish Kumar-led JD(U) do not buy this theory.
"His exit will make no impact at all. The JD(U) has no alliance with the RLSP," said JD(U) spokesperson Sanjay Singh, making it clear that the alliance in Bihar is more than happy with Kushwaha's departure as he was baying for Kumar's blood and had been targeting for his government's failure.
The BJP leadership, which cold-shouldered Kushwaha by denying him his repeated pleas for a meeting with party president Amit Shah and Prime Minister Narendra Modi, have assessed the ground realities and come to a conclusion that the RLSP leader was 'unnecessarily' bargaining for a greater share.
A section of NDA leaders feels that he was not even confident of winning his own Karakat Lok Sabha seat. Moreover, there was a feeling in the BJP that despite being a part of the NDA when JD(U) was not its partner, he could not help the alliance get votes during the 2015 assembly elections.
"In 2014, the RLSP won on Modi wave and got 3.04% of votes whereas, in the 2015 assembly elections, it could win just two seats in the 243 member assembly. The backward castes voted for the BJP and JD(U)," said a BJP leader, who did not want to be named.
"He is on a shaky wicket and after failing to get positive vibes from other alliances, he was trying to create a situation," said the BJP leader.
Kushwaha had been dropping hints about quitting the BJP-led national coalition for weeks, particularly after JD(U) negotiated a seat-sharing pact for the 2019 general elections with Shah that they declared, would reduce seats for their two other alliance partners.
BJP leaders, sources said, had taken note of reports that he had been in touch with rivals and had already sensed that he had made up his mind.
It is around this time that Kushwaha, prepping for his exit from the NDA, put out a 25-point charter of demands for the Nitish Kumar government that asked the BJP-JD(U) government to improve its governance record. The demands include the appointment of school teachers, exempting teachers from non-teaching work and timely holding of the students' union elections.
Kushwaha is already in touch with expelled JD(U) leader Sharad Yadav and is discussing a merger of their parties ahead of next summer's general elections.
Close