Upper castes should be given 15% reservation: Union minister Ram Vilas Paswan
Updated on Sep 11, 2018 07:07 AM IST
Union minister for consumer affairs, food and public distribution, Ram Vilas Paswan is the senior-most Dalit face in the Narendra Modi government.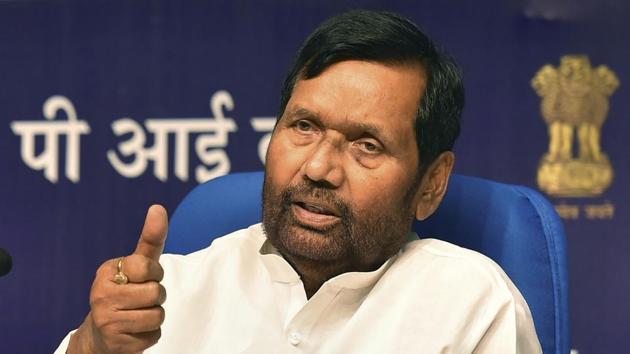 Union minister for consumer affairs, food and public distribution, Ram Vilas Paswan is the senior-most Dalit face in the Narendra Modi government. The veteran socialist from Bihar, who heads the Lok Janshakti Party (LJP), spoke to Kumar Uttam over the protests against the government's decision to bring in a bill restoring provisions of the SC/ST (Prevention of Corruption) Act that were seemingly watered down by the Supreme Court in March, reservations in promotion, and upper-caste reservation, among other issues. Excerpts from an interview:
There have been protests against the government's position on the SC/ST act and reservations in promotion. Is it a worry for the government?
Not at all. Six months ago, we faced so much protest. It had become difficult for ministers to move. The Modi government was called 'anti-Dalit' and 'anti-backward'. People asked me, 'Paswan-ji, you have been a champion of Dalits, why are you silent?' A lot of work was done but there was a perception problem. Today, the perception has changed. I often say that only two leaders – VP Singh and Narendra Modi – gave BR Ambedkar his due.
How did this anti-Dalit perception of the government change in six months?
It was a test for the government when the apex court gave a judgment on the SC/ST act. The youth hit the streets. Things would not have turned this bad if an ordinance was brought on day one. We, in a committee headed by home minister Rajnath Singh, decided to bring the ordinance immediately. But bureaucracy has its own speed. Whatever happens, happens for the good. Had there been no protests, the people would not have known what Modi has done.
So this anti-Dalit perception of the government has changed completely?
Narendra Modi is not anti-Dalit. But there was a perception. I told HT in an interview six months ago that VP singh was a Kshatriya — when we could change his perception, then Modi is neither a king nor does he come from an upper-caste background. Today, the perception has not only changed but the same people have started dubbing us as anti-upper-caste. Rahul Gandhi went to Mansarovar. Let him state if he is against or for this changed SC/ST act.This 25% (the Scheduled Caste and Scheduled Tribe population), which was scattered and in a dilemma, has now consolidated behind Modi.
Will this new perception help the government, or inflict damage among upper castes?
It will help...But this government did not do something new. It only reversed what the Supreme Court did. If the government had given something new, then you could have complained that the Modi government favoured the SCs. Why is this agitation limited to only three election-bound states? Aren't there upper castes in other states?
But will this lead to a shift in the Bharatiya Janata Party's (BJP) core vote base?
Those who are sitting on dharna; are they BJP people? All this unrest will die down in four to six months. The upper castes are hardcore BJP voters, and they will remain loyal to the BJP. Do you think they will go to Lalu Prasad, who abuses them on a daily basis? Or will they go with Mayawati or Akhilesh Yadav?
Are you suggesting that while the BJP's core vote base remains intact, Dalits have come into its fold?
Absolutely. The Dalit vote had drifted away from the BJP. After the Rohith Vemula, JNU and Una episodes, the environment was vitiated. Modi was called anti-Dalit. That is not the position today.
The Other Backward Classes (OBCs) are larger in number than SCs and STs. Will their protest have a bearing on electoral outcomes?
There is no protest. Whatever is there, it is temporary...I used to say that OBC reservation was a 'double lock' for Dalit reservation. I told Dalit leaders that if OBCs have got it, nobody can take away your quota. If they do not support the SC/ST act and promotion in reservation now, how will they (OBCs) ask for it tomorrow?
Why do you think there is no protest?
..because the SCs and OBCs have a khoon ka sambandh (blood relations)
Do you feel something needs to be done for some upper castes too?
Why 'something'? They should be given 15% reservation.
Will it not breach the 50% limit on quota?
Tamil Nadu has 69% reservation. If all political parties decide, there is no problem.
Should this be next move of the government?
The BJP can never have an anti-upper-caste perception. Upper castes are the backbone of the BJP. They are the party's natural allies. .