US elevates India's trade status to NATO-level ally, move to boost access to defence tech
Hindustan Times, Washington |
Yashwant Raj
Jul 31, 2018 08:18 PM IST
The Communications, Compatibility and Security Agreement is one of the three agreements that the US has with its closest military allies, and will allow installation of high-security US communication equipment on defence equipment being sold to India
The United States on Monday elevated India's status as a trading partner to equal that it has accorded largely to its Nato allies, mostly for the purposes of speeding up the sale of high-tech defence and non-defence products that are otherwise subjected to strict controls and licensing.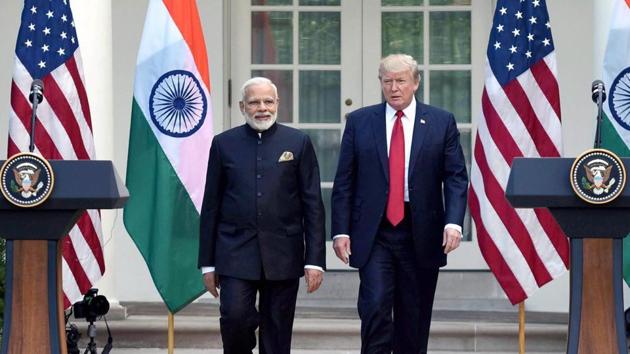 "We have granted to India Strategic Trade Authorization status STA-1 that's (a) very important status under our export control regime and acknowledges US-India security and economic relationship," said US secretary of commerce Wilbur Ross at the Indo-Pacific Business Forum.
The move, which will reduce the number of licences needed for US exports to India, means India can get easy access to the latest defence technologies.
It could also mean a leg-up for the foundational COMCASA agreement which the US is keen to get India to sign, analysts say.
The Communications, Compatibility and Security Agreement is one of the three agreements that the US has with its closest military allies, and will allow the installation of high-security US communication equipment on defence equipment being sold to India, thereby , the US argument goes, facilitating interoperability. India has concerns on giving the US access to sensitive military communication if it signs the agreement.
Interestingly, the important STA-1 status for India came at a time when the country has finalised its decision to go in for a missile defence system from the US to protect parts of the capital New Delhi.
At the same forum, US secretary of state Mike Pompeo earlier announced $113 million in new US initiatives for promoting investments in infrastructure, energy and digital economy in the Indo-Pacific, tracing America's links to the region to 1794 when it set up consular presence in Calcutta, now Kolkata.
Pompeo unveiled the Trump administration's Indo-Pacific economic vision as an alternative to China's one-belt, one-road initiative without naming the country directly. But the pitch was clear as he emphasised US seeks "partnership, not dominance" and it believes in strategic partnership not strategic dominance.
Ross said the new status would provide India "greater supply chain efficiency, both for defence, and for other high-tech products", the lack of which affected nearly $9.7 billion worth of goods India could have exported from the US over the last seven years.
The US has given STA-1 to only 36 countries most of whom are NATO or key non-NATO allies. The secretary said that the elevated status reflects India's status as a major defence partner. It was one of the measures the two countries were discussing to advance ties after the US declared India a "major defence partner", a designation that America has not shared with any other country.
"It is a sign of trust, not only in the relationship, but also (in) India's capabilities as an economy and as a security partner, because it also presupposes that India has the multilateral export control regime in place which would allow the transfer of more sensitive defense technologies," said Navtej Sarna, Indian ambassador to the US.
"It also testifies to the excellent record we have had in maintaining non-proliferation of these technologies. I certainly think it fleshes out our defence partnership in a big way," said Sarna, who was speaking at the same forum later.
"It's significant," said Benjamin Schwartz, a former defence department official who is now with the US-India Business Council. "Looking at current exports from the US to India, 50% of those are eligible now under STA-1. This can free up $2.1 billion in trade, make US exporters more competitive in the global marketplace, help provide India more advanced US technology."
Richard Rossow of the Center for Strategic International Studies said, "It underscores our deepening security relationship, and weakens India's lingering concerns about U.S. reliability as a security partner. The timing is also significant. Our nations will have their first 2+2 in Delhi in early September. This should help thaw the environment a bit, after a string of bad news and negative allegations on the trade front."
"This is a win-win for both countries," said Mukesh Aghi, head of the US-India Strategic Partnership Forum (USISPF). "It helps India in upgrading its defence requirement and also helps India in building a very strong defence ecosystem."
There was no immediate comment from the ministry of external affairs.
Speaking abut the administration's Indo-Pacific vision, Pompeo had sought to individually draw out US ties with countries in the region going back in time. "The US commitment to a free and open Indo-Pacific is deeply rooted," he said, adding, "The State Department, which I represent, established a consular presence in Kolkata – then called Calcutta – in 1794."
He went to speak more about US links with India. "We helped establish the first Indian Institute of Technology, along with 14 regional engineering colleges and eight agricultural universities all across India," he said, as he recalled these endeavors to highlight the collaborative nature of partnership US was seeking.
Pompeo set up the difference with China, which has caused worries in the region with the aggressive marketing of its OBOR initiative that has threatened the sovereignty of nations through predatory financing system. But he emphasised that the system the Trump administration was seeking "excludes no nation".
He said: "We seek to work with anyone to promote a free and open Indo-Pacific, so long as that cooperation adheres to the highest standards that our citizens demand".
He added: "The United States is committed to growing our presence in the region because we want Americans and all people of the Indo-Pacific to share in the economic growth of 2020, 2030, 2040, and beyond."