US postpones 2+2 dialogue with India due to 'unavoidable reasons'
Hindustan Times, New Delhi |
HT Correspondent
Jun 28, 2018 07:44 AM IST
The 2+2 dialogue scheduled for July 6 were going to be the first simultaneous meeting of the Indian defence and external affairs ministers Nirmala Sitharaman and Sushma Swaraj and their US counterparts in a format announced last August.
The US on Wednesday postponed its inaugural 2+2 dialogue with India, for which the defence and foreign ministers of the two sides were to meet in Washington on July 6, citing "unavoidable reasons".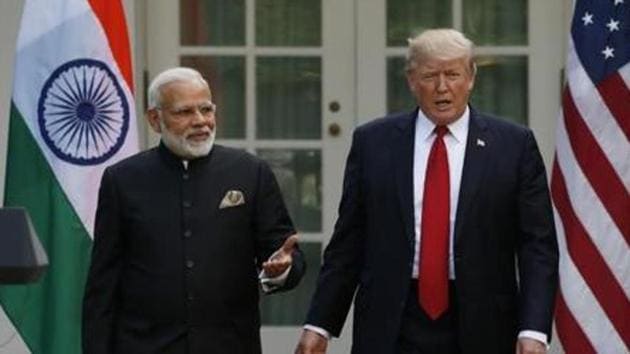 The US state department had formally announced the date for the meeting only last Thursday, ending months of uncertainty caused by postponements and cancellations because of scheduling and personnel changes.
External affairs ministry spokesperson Raveesh Kumar tweeted that secretary of state Mike Pompeo spoke to external affairs minister Sushma Swaraj on Thursday evening "to express his regret and deep disappointment at the US having to postpone the 2+2 Dialogue for unavoidable reasons".
Pompeo sought Swaraj's "understanding, and they agreed to identify new mutually convenient dates to hold the dialogue at the earliest, in India or the US", Kumar said.
There was no formal word from Washington on the development, which occurred as the visiting US ambassador to the UN, Nikki Haley, held talks with top Indian leaders on a wide range of issues. Haley's two-day trip is aimed at solidifying the bilateral partnership.
The postponement of the 2+2 dialogue also came against the backdrop of the US dismantling sanctions relief provided to Iran under the 2015 nuclear deal, with a state department official telling reporters in Washington that the Trump administration has asked India and China to stop all imports of Iranian oil by November 4 or face sanctions.
Haley too raised the issue during her meeting with Prime Minister Narendra Modi, telling him it was important for India to cut Iranian oil imports. However, she said the US would work to allow India to use the Iranian port of Chabahar as a corridor to Afghanistan.
"Sanctions are coming (on Iran) and we're going forward on that, and with India and the US building strong relationships we hoped that they would lessen their dependence on Iran," Haley was quoted by Reuters as telling reporters.
"There's a will, a political will, from both sides to figure out how to make this work," she said. "Prime Minister Modi very much understands where we are with Iran, he didn't question it, he didn't criticise it, he understood it and he also understands that (India's) relationship with the US is strong and important and needs to stay that way."
The 2+2 dialogue was announced last August following a call between Modi and President Donald Trump. The meeting scheduled for next week was to have focused on "strengthening strategic, security and defense cooperation".
The two sides were also expected to discuss the impact of US sanctions on Russia and Iran. Indian planned purchase of the Russian S-400 air defence system is at risk of attracting secondary sanctions from the US unless an exception is made.
The meeting was earlier scheduled for April but was put off when Trump fired then secretary of state Rex Tillerson.
Despite growing defence and diplomatic ties, the two sides are grappling with increasing trade differences caused by Trump's decision to slap tariffs of 25% and 10% on steel and aluminum imports and the proposed Iran-related sanctions.