US recognition of Jerusalem: India says position on Palestine consistent
Reacting to the US' announcement recognising Jerusalem as Israel's capital, India said its position on Palestine is independent, consistent and not determined by any third country.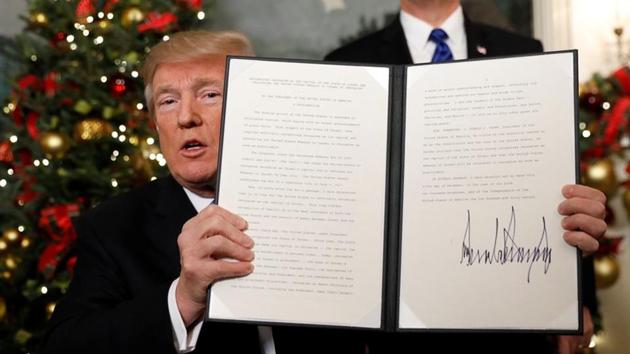 Updated on Dec 07, 2017 05:46 PM IST
India's position on Palestine was "consistent and independent" and not determined by a third country, India said on Thursday within hours of US President Donald Trump recognising Jerusalem as the capital of Israel, dealing a huge blow to the peace efforts in West Asia.
The decision would add to the turmoil in the region, with Trump also saying the administration would begin the process of moving the US embassy from Tel Aviv to Jerusalem, home to sites holy to the Muslim, Jewish and Christian religions.
Read: Uproar over Trump's recognition of Jerusalem as Israel's capital: Here's why
"India's position on Palestine is independent and consistent. It is shaped by our views and interests, and not determined by any third country," external affairs ministry spokesperson Raveesh Kumar said.
He was responding to queries on India's position on the US's move on Jerusalem that triggered a diplomatic backlash against Washington amid renewed fears of violence in region.
India was one of the first non-Arab countries to recognise Palestine.
Its stated position on Palestine is support for a peaceful and negotiated solution between Palestine and Israel, resulting in a sovereign and independent state of Palestine, with East Jerusalem as its capital, living side by side and at peace with Israel, within secured and recognised borders.
Read: Arabs, Europe, UN reject Trump's recognition of Jerusalem as Israeli capital
Though over the years India's ties with Israel have grown stronger, the support for the Palestinian cause has remained unchanged.
"We hope for an early realisation of a sovereign, independent, united and a viable Palestine co-existing peacefully with Palestine," Prime Minister Narendra Modi said in a message on November 25 to mark the international day of solidarity with Palestinian people.
Trump's Jerusalem move, in keeping his campaign promise, not only breaks from the long-held US position but also threatens regional stability despite stark warnings from Western and Arab allies.
Close Story