Watch: Cars disappear into waves of foam as Bengaluru lake froths again
Aug 17, 2017 12:28 PM IST
Residents report 'terrible stench' as fresh frothing seems to turn the clock back on efforts to clean the lake that has been polluted by sewage and industrial waste
Karnataka will take one or two years to eliminate plumes of toxic foam spewing out of Bengaluru's lakes, chief minister Siddaramaiah said on Thursday, amid outrage over the health hazard that symbolises the dangers of indiscriminate sewage dumping and unplanned urbanisation.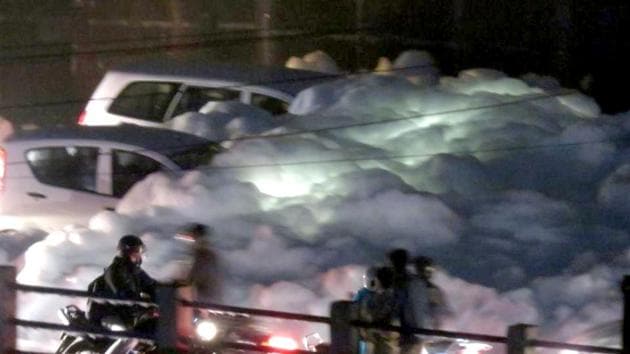 The National Green Tribunal convened a hearing on the carcinogenic foam after frothing at the Bellandur and Varthur lakes reappeared on the back of good rainfall through the week.
On Wednesday night, froth spilled over on to the road nearby and enveloped vehicles plying near Bellandur lake, where sewage and industrial discharge is believed to have created a deathly concoction of chemicals that also often sometimes fire.
"Government is taking all necessary action. It will be solved in 1-2 years," Siddaramaiah told news agency ANI.
On Thursday morning, residents of nearby apartment complexes said the froth from Bellandur was blowing into their homes..
Sonal Solanki, a local resident, said the stench from the local was a constant reminder of the toxic waste that was present nearby. "Nothing is being done about these lakes," she said. "Clouds of froth are blown into our complex by the wind and it's a common sight to see this froth floating on our swimming pool."
The lakes have foamed several times in the past three years, even catching fire, but the government has struggled to tamp down on the untreated sewage dumping that is said to be the cause for the froth.
The National Green Tribunal ordered in April that all industries around Bellandur Lake be shut and imposed Rs 5 lakh fine on anyone found dumping waste in and around the lake. But many industries are still operating.
Bengaluru's lakes – about 600 large and small ones – have been the casualty of the city's rapid expansion since 2001. According to Census data, the city's population shot up from about 6.5 million to around 9.6 million between 2001 and 2011, an increase of around 50%.
According to TV Ramachandra, faculty at the Indian Institute of Science here, who has conducted extensive research on the lakes of Bengaluru, there can no solution till the bureaucracy is reformed."There is no will to rejuvenate lakes, and every move is thwarted because of those who refuse to accept that there is a problem."