'We are afraid, can't wait anymore': Stranded students appeal to govt
Published on Mar 06, 2022 01:57 AM IST
Responding to their appeal, Indian envoy to Ukraine Partha Satpathy on Saturday said no stone will be left unturned for the safe evacuation of students from the conflict-hit city of Sumy.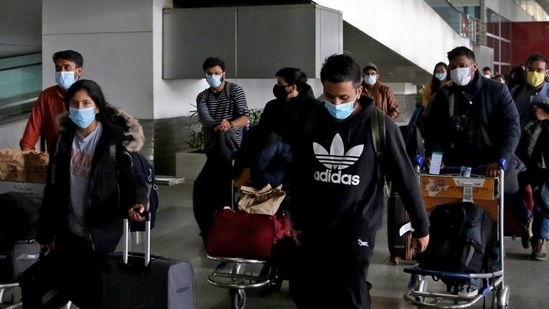 Indian students stranded in the shelling-hit northeast Ukraine's Sumy city are battling biting cold and depleting food supplies as they await evacuation from the city, located about 60km away from the Russian border. The students said they have to choose between undertaking a potentially fatal journey to the border on foot and risking running out of essential supplies.
Indian envoy to Ukraine Partha Satpathy on Saturday said no stone will be left unturned for the safe evacuation of students from Sumy as he hailed the unparalleled strength and fortitude displayed by the young citizens in dealing with the adversities.
According to the government, the "main focus" of evacuation efforts from Ukraine was on Sumy, and the Indian side is exploring multiple options to get some 700 Indians out of the besieged city.
Also Read | Amid intense shelling by Russia, India focuses on evacuating students from Sumy
Desperate video appeals from Indian students stuck at the Sumy State University amid heavy shelling and airstrikes have been doing the rounds on social media, where some said they were considering leaving for the Russian border on foot, hoping to get picked up by the Indian authorities. "We have been expecting the government to help, but we have got no information. Some are saying buses are waiting at the Russian border, which is about 60 km from here. If we walk from the hostel, there are snipers in all four directions, everywhere. We fear airstrikes. Bombardment is happening every 20 minutes," a student could be heard saying in a video. HT independently could not verify the authenticity of the video.
"We are afraid. We have waited a lot and we cannot wait anymore," a student, surrounded by others, said.
In another video, students are seen filling up buckets with ice as they ran out of drinking water. "We had stored some water, but it got over. Today, we took snow from outside and melted it," Malavika Manoj, a third-year medical student stranded at the Sumy State University, told HT.
Also Read | PM Modi chairs another high-level meeting on Ukraine conflict, evacuation
Hours after the videos went viral, Satpathy urged the students for "some more patience and forbearance so that we can ensure your safety and security."
"I am proud of the maturity and fortitude displayed by our Indian nationals, especially young Indian students, in continuing to stay brave during these difficult times," he added.
Following the embassy's assurance, the students have decided to stay back. "We had already started moving after we gave up hope on the government coming to our rescue. But now with the new advisory, we are confused whether we should take the risk at all. I am so so scared," said Mohd Nizamuddin Aman (21), a first-year MBBS student at Sumy State University.
Personalise your news feed. Follow trending topics