We have contained Nipah outbreak effectively, says Kerala health minister
The Kerala health minister said everything was under control and there was no need to panic.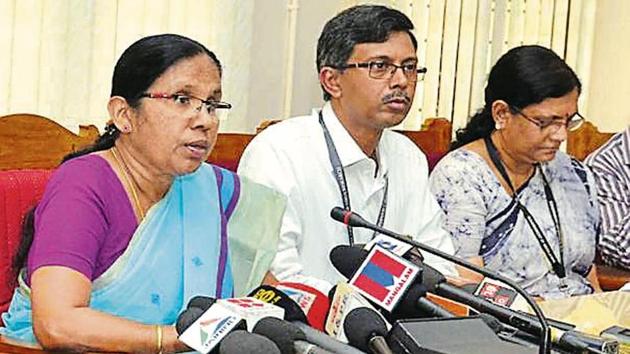 Updated on May 22, 2018 02:24 PM IST
With Nipah virus being reported for the first time in Kerala, the state health minister KK Shailaja has been camping in the worst-affected Kozhikode district since Sunday. Excerpts from an interview with Ramesh Babu:
Q:Is there panic among the people? What is the situation on the ground?
A: The situation is well under control. Officially, we have confirmed nine fever deaths from the two districts of Kozhikode and Malappuram. Of these, four cases have been confirmed to be Nipah-infected.
Everything is under control and there is no need to panic. We have contained the outbreak effectively.
Q:The opposition parties are alleging delay and inept handling.
A: Not true. We were on our toes when the second case was reported on May 18. We immediately rushed blood and other samples to virology institute (National Institute of Virology) in Pune and sought the help of two well-known hospitals, Kasturbha Medical College in Manipal and Apollo (Hospital) in Chennai.
Take other outbreaks in the world, we identified the malady in record time and took effective measures. We managed it well due to the state's robust health infrastructure. If need be, we will seek assistance from world bodies like the World Health Organisation.
Q: What about those under observation in hospitals?
A: Nine persons are in hospital and the condition of four is serious. It seems they are epidemiologically-linked.
Thirty persons are under observation. They are in their homes and health officials are keeping a tab on them. (If they develop) any symptoms, they will be moved to isolation wards immediately. Most of them are bystanders and relatives of the infected.
Q: What triggered the outbreak? What is being done to curb it?
A: Expert say fruit bats are the main suspect. We have asked people not to eat fruits bitten by bats. We have ordered at least 10,000 personal protection equipment (PPE) for medical staff and others. We have summoned enough officials and volunteers from other districts. Top officials are camping in the area. Another team from the Centre, including experts from AIIMS (All India Institute of Medical Sciences in Delhi), is reaching the state on Tuesday.
Close Story
Personalise your news feed. Follow trending topics