Arrested Pak national Bahadur Ali was trained by PoK terror groups: NIA
The NIA said on Wednesday it has proof against alleged Pakistani terror suspect Bahadur Ali and can show a video of him talking about his training by terror outfit Lashkar-e-Taiba (LeT) and infiltration into Jammu and Kashmir.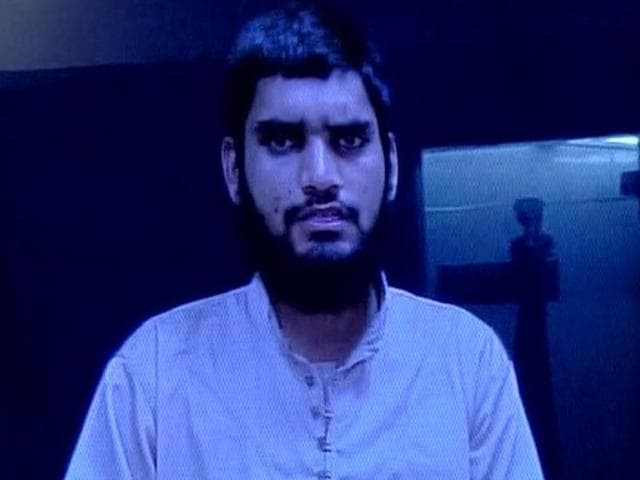 Updated on Aug 11, 2016 01:34 AM IST
The NIA said on Wednesday that Pakistani terror suspect Bahadur Ali, who was recently captured in Kashmir, was regularly guided by the control room of terrorist groups in Pakistan-occupied Kashmir (PoK) with the help of neighbouring country's forces.
During a press conference on Wednesday, the National Investigation Agency added that the arms and ammunitions training given to Ali show the involvement of military experts.
A Lashkar control room, code named Alpha-3 and located at a high-altitude peak in Pakistan-occupied Kashmir, guided Ali and his associates."The control room is being run with support from Pakistani forces," NIA inspector general Sanjiv Kumar Singh said.
Ali told interrogators that he was trained by military men. The NIA has reasons to believe him as security forces recovered assault rifles, Chinese hand grenades, sophisticated wireless sets made by ICOM Inc. of Japan.
Ali, a resident of Jia Bagga village in Pakistani Punjab, was captured with weapons, communication equipment and material of Pakistani and international origin in Jammu and Kashmir on July 25 following an encounter with security forces in Kupwara district. Four other terrorists were gunned down in the shootout.
Counter-terror officials said Ali, who was described by the government as a "big terror catch", had crossed over to India to attack security forces and fuel more unrest in the valley. He was on a fidayeen or suicide mission in Kashmir.
The agency also told reporters that the LeT has instructed its cadre to stay behind Kashmiris during protests in the valley that has witnessed a wave of violence after security forces gunned down Burhan Wani, a poster boy of the militant Hizbul Mujahideen.
"Bahadur Ali lays bare the Lashkar conspiracy to throw grenades amidst protesters in Kashmir," NIA DG Sharad Kumar told Hindustan Times.
Kumar added that Ali tried throwing grenades from behind protesters twice.
"Since Ali was roaming among the protesters and his appearance didn't gel with the locals, informers spotted him. A wireless set was found on him when he was captured," said a counter-terrorism expert.
According to the agency, Ali is the son of a former police constable in Pakistan's Punjab province and has six brother and two sisters. They said his family owns 12 canals or over 5,000 square feet of land in Jia Bagga near Lahore.
He dropped out of the government primary school in his village after Class 8 and also attended a local madrassa Jamia Qasmia affiliated to Tablighi Jamaat.
In 2008-09 when Ali was 13 or 14, he met an imam of Ahle-Hadith mosque and his son who motivated him to join the sect. At the same time, he also met Mohammad Yusuf and Hafiz Shehzad, who worked for LeT's parent outfit Jamaat Ud Dawa.
In 2013-14, he started working with Falah-e-Insaniat, the charity long suspected of a front of the LeT. A JuD donation collector by the name of Abdullah asked Ali to join the Lashkar.
Officials also said Indian national called Deen Mohammad is related to Ali.
He is the fourth Pakistan terror suspect to be captured alive in Kashmir since the arrest of Mohammad Naveed Yakub, a 22-year-old from Pakistan's Faisalabad city who joined LeT at a young age after getting indoctrinated at a local mosque.
Naveed was arrested on August 5 last year after he, along with another suicide attacker, tried to attack a BSF bus in Udhampur area of Jammu and Kashmir.
India on Tuesday called in the Pakistani envoy to lodge a strong protest over Islamabad's "continuing cross-border terrorism" amid a sharp downturn in bilateral ties.
A "strong demarche" on Pakistan's use of terrorism against India and the recent arrest of Ali was handed over to Pakistani high commissioner Abdul Basit by foreign secretary S Jaishankar. The demarche made "specific reference to LeT terrorist and (Pakistani) national Bahadur Ali", external affairs ministry spokesperson Vikas Swarup said.
Pakistan's Foreign Office spokesperson "strongly rejected Indian claim of any cross-LOC infiltration".
"Pakistan remains committed to the policy of not allowing its territory for any terrorist activity against anyone. However, it is necessary to establish the veracity of the Indian claim. Details in this regard will be gathered," the spokesperson added.
Ties between India and Pakistan dipped to a new low in January after the terror attack on Pathankot airbase, which was blamed on Pakistan-based Jaish-e-Mohammed. The unrest in Jammu and Kashmir triggered by the death of militant commander Burhan Wani has added to tensions.
Pakistan has made renewed efforts to internationalise the Kashmir issue and Indian home minister Rajnath Singh's visit to Islamabad last week to attend a Saarc meet ended in rancour after a tense encounter with his Pakistani counterpart.
Read | 'Big terror catch': Militant caught in Kashmir is 'Pakistani' national
Close Story
Personalise your news feed. Follow trending topics