What cheek! TV news coverage angers many Kashmiris
Updated on Jun 10, 2017 11:52 AM IST
Kashmiris are unhappy with how news from there is being covered by national television networks that often hold panel discussions resulting in a raucous arguments that they feel are "insensitive".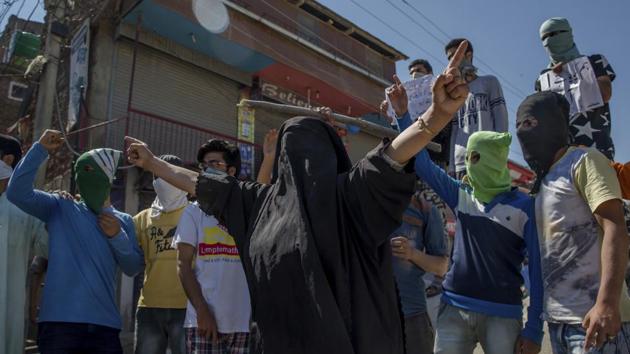 Kashmir's politicians, separatist leaders and civil society members pursue different agendas and are normally deeply divided. But currently, they agree on one thing: that most national television channels are harming the strife-torn Valley irreparably by their raucous news coverage and panel discussions.
Almost all of them were aghast when a retired army Major wondered aloud incredulously last week on a TV show why the cheeks of Kashmiris are red. The panelist went on to add that "half the time" Kashmir was under lock-down and yet there were no farmer suicides or malnutrition cases – moreover, the cheeks of people were "laal laal gulaabi". "I want to understand where is the money coming from," he said.
The remarks, which many Kashmiris felt were 'insensitive', came against the backdrop of a deepening mistrust between locals and TV channels.
Last month, chief minister Mehbooba Mufti had requested the national media "not to show discussions that spread hatred against people of Jammu and Kashmir in the country". State education minister and senior leader of the People's Democratic Party (PDP) Altaf Bukhari had also chipped into the growing chorus of disenchantment, saying the channels were not showing the "true picture" about Kashmir.
Naeem Akhtar, public works minister, went a step further, saying "uncouth anchors and illiterate panelists were spreading such hatred that even those Kashmiris who swear by their loyalty to India are feeling alienated".
The grievances of Kashmiri leaders against television coverage have multiplied in recent times. The National Investigation Agency (NIA) raided houses of Kashmiri separatists last week, and soon after several channels named a prominent hotelier as one of those raided. A livid Mushtaq Chaya denied the reports, threatening legal action against the outlets for 'defaming' him.
Union minister Babul Supriyo also angered many when during a TV panel discussion he took exception to two Kashmiri panelists.
"I don't like the way they are smiling. I would want to catch them by the nape and make them confess that they are Indians first… to say that we are Kashmiris from beginning to the end, I think for every Kashmiri like this who smiles such shamelessly on the television, there is one Major Gogoi there who is going to tie them in front of a jeep…" the minister said, referring to the army major who had controversially tied a Kashmiri to an army jeep last month as a human shield.
Also last month, separatist leader Yasin Malik lodged a complaint with the police against a TV reporter for "barging into his bedroom". The reporter claimed that Malik assaulted her cameraman and damaged their mobile phones.
Secretary general of News Broadcasters Association Annie Joseph said she "would not like to comment" as she was "not aware of the issues Kashmiris are having with the channels".
But, the bad blood has now spilled out in the open. Among other issues, a Kashmir shutdown and protest called by separatist leaders such as Syed Ali Geelani, Mirwaiz Umar Farooq and Yasin Malik on Friday was also "against the Indian electronic media's propaganda war against the people of Kashmir and the prejudices and biases against Kashmiris being promoted by them".
Speaking to HT, the Mirwaiz said that sections of Indian TV media have launched a viscous propaganda campaign to demonize and malign the people of Kashmir and to mislead the people of India by distorting and obfuscating the truth.
Even opposition National Conference spokesman Junaid Mattu is disillusioned with the TV coverage. Asked on Twitter why he had been missing from debates, he replied: "The 'debates' have lost whatever little element of sanity they had. Complete insanity now. Better to avoid them as much as possible."
Sections within Kashmir's business community are particularly annoyed with the coverage in the wake of the NIA raids. "Such false malicious and defamatory reporting by a section of electronic media is adding fuel to fire thereby subjugating the economy of Kashmir and complicating the already volatile situation," the Kashmir Chamber of Commerce and Industry had said in a statement recently.