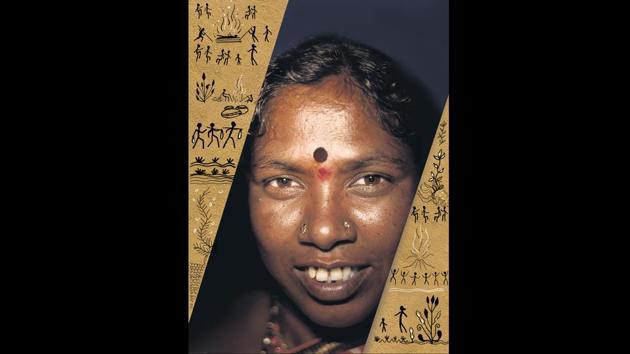 When caste restricts but also uplifts: How a Masan Jogi woman became sarpanch
Tulsabai Sankhwad is the first woman sarpanch from the Masan Jogi community, the keepers of the funereal rites. She battles centuries of caste and custom, decades of red tape and patriarchy, to have her say.
Hindustan Times, Marathwada | By Gayatri Jayaraman
UPDATED ON JAN 18, 2018 11:56 AM IST
If we could really bring back people from the dead, would we not have first brought back politicians who filled our hands when they were alive?" asks Tulsabai Ramlu Sankhwad, 43, to a round of approving laughter. Her strident language is poetic. She tosses a small wooden hand mirror to the ground. "We see death like this. The body falls, everybody's body falls the same way. The jiva, the soul, flies away. All we do is treat the body. The jiva is the same, there is no difference between castes." It is a recurring metaphor in her interpretation of society and politics.
Tulsabai is the sarpanch of Arjapur, a village with a population of 2,320 in the Biloli taluka of Nanded district in eastern Marathwada. She sits in her courtyard, calves and goats in a small enclosure at its entrance, a gaggle of village women around her. She is its first woman sarpanch, voted in October 2015, and the first from the Masan Jogi community, a de-notified tribe.
The Masan Jogis have been keepers of funereal rites and lived in cremation grounds and graveyards, surviving on alms. Worshippers of 'Masan', the deity of the cremation ground, alongside the all-consuming 'jwalamukhi' fire, the use of kitchen fire was banned to them. Once fed as a collective responsibility, they came to be seen as beggars. The Masan Jogis were also shrouded with superstition at their supposed mastery over death. In the 1865 census, 1,929 people identified as 'Masan' worshippers. By the 2011 census, the population was estimated at 27,000.
Tracing origins to the erstwhile Nizam kingdom of Hyderabad, the Masan Jogis in Maharashtra were located in Nanded, Parbhani and Aurangabad districts. With drought and rapid urbanisation depleting resources, the tribe began to wander in search of employment. Some found stability as cremation groundskeepers. A younger generation began to take up manual labour. The women, however, continue to largely subsist on alms. "My mother ate alms when I was in her womb, like her mother before her. For generations, this is how we have been shaped," Tulsabai says.
Behind her, her daughter-in-law pats bhakris (a millet flatbread) over a chula and the pressure cooker whistles on a gas stove. This is a big change. The Masan Jogis never cooked before Panchfulla Vadde got there two decades ago. Vadde is currently the regional coordinator for the Resource and Support Centre for Development (RSCD), an NGO that works with women sarpanchs under the Mahila Rajsatta Andolan project. There are 14,000 women sarpanchs out of 28,813 in Maharashtra currently. The challenges of participation are not merely gaining a seat, but understanding what power entails. The RSCD members play snakes-and-ladders in some villages, showing the women that taking a bribe is a snake bite, thus explaining what is ethical. It is an invaluable learning for women otherwise expected to be puppets. The pati sarpanch phenomenon has often resulted in "women who know too much" being voted out in a no-confidence motion after the mandatory one year cooling-off period. Tulsabai has survived this. "The problem has been that when women meet, they discuss jewellery and the prices of vegetables. When men meet, they discuss politics," says Vadde. Tulsabai has overcome that.
When Vadde first met Tulsabai, the Masan Jogi 'galli' was a place to be avoided, smelling of arrack, consumed copiously by both sexes after sundown.
Their meagre earnings would be spent on meals. It's taken years to get them to even cook.
Tulsabai's 'galli' only received electricity and water this past year, after she has become the sarpanch. They were not included in ration schemes. They didn't know that their children were entitled to school admissions and uniforms. The women have learned to ask for rights, demand receipts and quotas. "We used to stand with folded arms, waiting to be fed, eating bhakris made of bhoosa (cow fodder) and leftovers rotted by heat. When someone in the village would get married, we would go thinking 'they will feed us now'. We would keep standing for hours, shoulders bent, hands folded, thinking 'food will come now'. Our lives were like those of stray dogs," she says.
Her father became a member of the gram panchayat, then her uncles, but as they were wanderers, they still did not have the coveted address proofs needed for caste certificates once the legislation came through. "I didn't even know how to apply for one," she says. The RDSC helped them know what paperwork, and how to obtain signatures of the police for her nomination.
"What caste can the Masan Jogi be? We eat what we get, we stay where we can, we have no education, we have no place to rest — how will we have a caste?" A panchayat in search of women to fulfil its mandatory quotas told her: 'Get a caste certificate and we will nominate you for elections'. "They kept asking 'do you have a pistol?' 'do you have a gun?' 'do you have a talwar (sword)?' I understood that caste becomes a talwar. It cuts your path through."
When she won the elections, it shocked the small village. "They kept ranting, 'How can a Masan Jogi woman be sarpanch? What woman have you made sarpanch — that uneducated one? That kind of woman who begs will tell us what to do? She won't understand Aadhaar card, voter card, ration card; she doesn't know anything; she eats meats, talks a low language — will she be sarpanch?'"
Tulsabai raises her voice to mimic the taunts. Her confidence to keep going, she says, came from Vadde, the stories of Rani Lakshmibai of Jhansi, and the words of BR Ambedkar. "They said 'you marry your children off young, which is against the law'". It only became apparent to her how much her community needed to change to fit in with a society rapidly moving forward.
Tulsabai was married at the age of 12. As a child, she would play in the streets. When first married and sent to her husband's room, she screamed in fear. As night would fall, she would cling to her mother-in-law. Her bhakris would break, and she was not adept at housework. Her first husband returned her to the jat panchayat, the SC of the nomadic tribes. The transaction rescinded, she was returned to her parents to be remarried.
"We didn't know that you shouldn't marry a girl off before 18," Tulsabai says. Understanding like this has come with time and empowerment. The community is thrilled Tulsabai is sarpanch now. "Now there is some hope our poverty will reduce," some of the members say. For the first time, Tulsabai says, mainstream society is inviting her in. "They say 'ya ya ya, basa' (come, come, come, sit) now. I feel good. I understand what is education and why it is necessary."
Young women in the community now want to enter politics too. She tells them, "Go be collector and tahsildar, go further than me. I couldn't study so this is all I could be. Surpass me." For the next generation there are no more child marriages. Her community understands, if they are to participate in a new India they must let go of old ways.
When the body falls, as any Masan Jogi knows, all souls release in the same way. And yet, the caste that marginalised her is also what raises her up. "If our daughters marry outside the community, we will not let them in the village," she says. "We have to protect the community. It is what protects us." OBC status ensures votes that bring light, water, and respectability. "The same politicians who tell us 'jati, bhed, bhav nahin hai' (there is no difference between castes) are the ones who only see us when we have a caste certificate. The only way to counter it is to win votes, and for that you need the support of community. And you can only do that with a caste. So even we who didn't have caste have to acquire it. Caste is a sword, caste is a gun, caste cuts the way. There should not be caste, but caste is what protects us."
Close