When Muslim countries protested...: Sanjay Raut refers to Nupur Sharma suspension amid Shivaji row
Updated on Nov 27, 2022 04:03 PM IST
An attempt is going on to make Maharashtra 'impotent', Sanjay Raut wrote in his weekly column Rokthok commenting on the Shivaji row. A Maharashtra bandh should be called protesting the comments of the governor and BJP MP Sudhanshu Trivedi, Sanjay Raut wrote.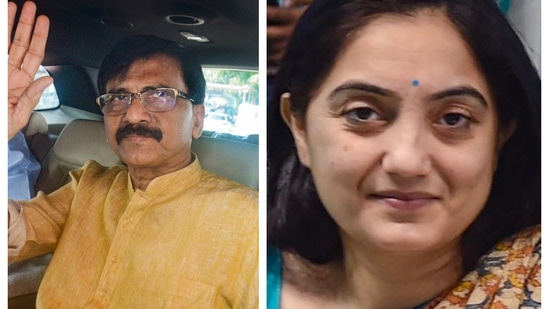 Criticising the silence of the Maharashtra government over the governor's remark on Shivaji, Shiv Sena (Uddhav Balasaheb Thackeray) leader Sanjay Raut in his weekly column Rokthok on Saamana said when Muslim countries protested Nupur Sharma's comment on the Prophet, she was suspended from the party, but now the BJP is not only silent but also supporting those who insulted Shivaji. "There is a conspiracy to make Maharashtra impotent," Sanjay Raut wrote in his party's mouthpiece.
All organisations that follow Shivaji's ideals should come together and give a call for a 'Maharashtra bandh' on this issue.
"Shivaji established his rule by stepping on the head of Aurangazeb. The threats that he used to give to Aurangazeb are there in the British records. Today's government adopts the same principle while 'threatening' Pakistan. Hence, Shivaji is timeless," Sanjay Raut wrote in his blistering attack.
Maharashtra Governor Bhagat Singh Koshyari is at the centre of controversies as he described Shivaji as an old icon. "Earlier, when you were asked who your icon is, the answers would be Jawaharlal Nehru, Subhas Chandra Bose and Mahatma Gandhi. In Maharashtra, you need not look elsewhere...there are so many icons here. While Chhatrapati Shivaji Maharaj is icon of the olden times, now there are BR Ambedkar and Nitin Gadkari," the governor said stoking a row.
BJP MP Sudhanshu Trivedi added fuel to the row as, taking part in a television debate, he said Shivaji apologised to Aurangazeb five times.